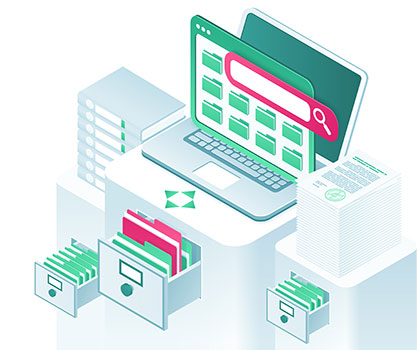 In today's digital world, a document management system is a must-have tool. Let's look at what a document management system is, why it's important and which document management system is the best on the market right now!
What is a Document Management System?
Document management system is a software solution that automates the process of capturing, digitizing, organizing, storing, securing, tagging, sharing, approving, and completing tasks associated with your business documents. Considering the fact that most document management systems are a data storage system, however a DMS is much more than just that. With comprehensive document management solutions, like Docsvault, managing and organizing electronic documents and a large volume of paper-based documents becomes easier.by employing tools like metadata capture, enhanced collaboration and data discovery & disposition.
Why Is A Document Management System Important?
Documents play a critical part in the smooth operation of any business. Every day, you create, manage, and share business documents such as proposals, agreements, contracts, HR policies, training manuals, invoices, and so on.
These documents might be available in paper or digital format, scattered all over the place. What happens when you can't find a file in the middle of a meeting or don't remember where you stored it when your manager needs it?
It is not easy to manage this digital mess, which is often unstructured and make documents available to your stakeholders instantly when needed.
A document management system helps make all the tasks related to managing documents easier, faster, and more efficient.
What Are The Benefits Of Using A Document Management System?
We'll go through the benefits of electronic document management systems based on our customers' success stories.
These advantages and solutions are just a few of the reasons why it's a good idea to go paperless in the office using document management solutions.
Free space
Save Time
Flexible
Peace of Mind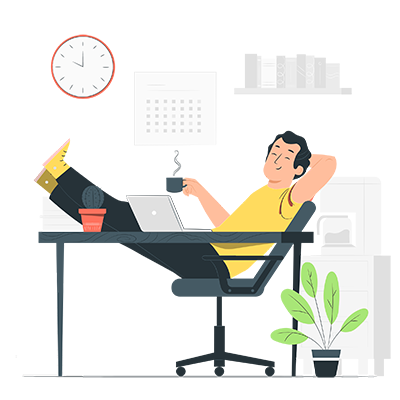 A document management system provides Free Space
If your company still uses paper documents, switching to an enterprise document management system may help minimize paper usage and save money on printing, storage, maintenance, and filing, among other things. According to one study, physical document storage takes up around 15% of the overall office area. In the United States, office space costs an average of $285 per square foot. That's a lot of money to spend on document storage at that price.
In today's era, most of the information and data are available in electronic format. Switching to a paperless office using a document management system would eliminate the issue of space and save companies some real money. Document scanning and digitization aka document imaging is the first step towards digital transformation. No longer will you have to waste time searching for documents in storage rooms or paying for the wasted space that paper takes up.
A document management system saves Time
According to a Wakefield Research and Elastic survey, more than 50% of office pros spend more time searching for files than at work.  The report observed that "loss of time negatively impacts companies and cultures as workers waste energy that would be better spent on planning, strategy, and overall company growth."
Time is just as crucial as money when it comes to your job.  A document management system solution can save time and money as your team can search by word, phrase, or full text and quickly find what they need. Since all documents are stored in a centralized document management system, your team can collaborate on them easily while reducing costs and saving time.
A document management system is Flexible
A common problem for businesses is how their employees can access files when they are away from the office.  This remote working model was common in the industries of finance, insurance, professional services, and IT. However, recent times have shown  that all types of industries are adopting remote working in some or other form.
Document management system provides freedom and flexibility to employees, allowing them to work from anywhere at anytime. For instance, a web-based document management solution, and its mobile app, enable users to access documents, collaborate with teams, track, and securely share sensitive documents and information from any location with access to an internet connection. Online document management system also enables users to securely share files and speed up document signing. Although accessibility and security were formerly considered to be completely incompatible benefits of software solutions, the document management system incorporates both benefits into a single functional solution.
Read Five Reasons Why You Need Online Document Management
A document management system provides Peace of Mind
Security threats in a company come from all directions ranging from malware and data breaches to theft, fire, or flood, making it essential to incorporate data security in their business continuity strategies.
An electronic document management software solution provides you with the tools you need to keep data safe and secure while also complying with industry regulations. Security features of document management systems include fine grained access control and authentication methods, scheduled automated backups, and the ability to encrypt data at rest or in transit via SSL. Furthermore, document management software security can help to mitigate the risk of internal data breaches. It also creates automated notifications when sharing sensitive data and keeps a comprehensive audit trail of all document-driven collaboration.
Selecting Document Management Vendors
Selecting the best electronic document management system vendor requires making decisions based on the comprehensive evaluation of three main key benefits: security, price, and usability.
Docsvault offers a user-friendly document management system to help you build a paperless office. Switching to a paperless document management system will boost your employees' productivity and make your business more economical and sustainable.
Must Read: How to Choose the Right Document Management Solution for Your Small Business?
Fill out the form to receive a free demo to learn how a document management system can benefit your organization.
Document Management FAQs
How do I know that my company needs a document management system?
Docsvault Team
2022-06-08T06:32:08-04:00
Document Management System can store, organize, manage, and track your documents efficiently.  A document management system (DMS) offers many benefits including keeping your documents safe, secure, and easy to retrieve.
If your company experiences any of the following signs, you could benefit from a DMS:
There is paper everywhere
You are having trouble storing your files in an organized manner
You want your data to be easily accessible from anywhere
You need to provide enhanced security to your important data
Collaboration with your workers needs to be faster and easier
You spend a lot of time in searching for documents
You want to save costs on printing, shipping, and reproducing lost documents
Your staff requires a better document management system to improve productivity
You want to make your office a smart, eco-friendly office