SOX Compliance Document Management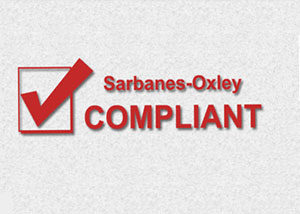 Document management concerns most with Sarbanes-Oxley (SOX) Act's section 404. According to this section, companies must assess their document processes, structure them effectively and take steps to control risks. They must also secure financial information and take adequate steps to ward off theft or corruption of data.
The company employees must have proper access rights to deter fraud or misrepresentation of financial data. Here are some Docsvault features that can help comply with section 404 of the SOX act.
Security
SOX states that companies must assess whether they have adequate security controls to ward off theft or corruption of data and determine whether their employees' roles, responsibilities, access rights, and permissions could allow material fraud or misrepresentation of financial data. Docsvault offers access control and various other security features that deter leakage or corruption of financial data.
Shared Repository
In companies with multiple locations and divisions, they have to ensure that their filing has a consistent approach. Docsvault offers shared repository so whether your offices are in Hong Kong or Honolulu, everyone follows similar format of file creation, etc.
Workflow
Companies have to assess whether their processes for working with financial data are established, documented and structured properly to contain controls against risk.
Docsvault's workflow ensures that only those people can route documents that are authorized, so that financial data is secured against risks.