Electronic Contract Management Solution
Effortlessly create and manage digital contracts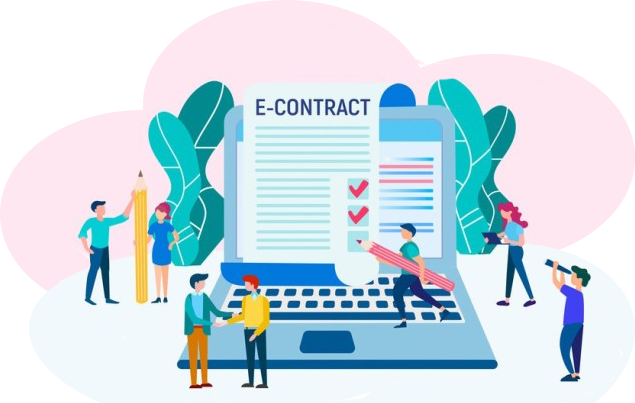 Creating and managing contracts is an integral part of every business, small or large. However, manual contracting takes a lot of time and is prone to common human errors.
A paperless contract management system, known as contract lifecycle management (CLM), is a great way to accelerate the entire process while lowering the risk of audit and financial issues. It also ensures contracts are in compliance with laws and regulations as well as with internal company policies.
What is Electronic Contract Management?
Paperless or electronic contract management refers to the process of managing agreements digitally, from their creation through their renewal to their eventual termination.
The typical contract management workflow is: create >> collaborate >> negotiate >> sign >> track >> renew or terminate.
A typical example of electronic contract management includes signing a non-disclosure agreement (NDA) or a third-party contract online.
A vendor contract management software digitizes and stores all contracts into a central repository, allowing the concerned authorities to search for and review contracts without manually locating and sifting through stacks of paper. Docsvault is a regulatory compliance document management software that not only helps you manage all types of contracts but also allows you to automate the contract lifecycle.
Paperless Electronic Contract Management Features & Capabilities
Create and manage your contracts digitally with the Docsvault contract document management system.
Centralized Contract Repository
Have all your contracts stored electronically in a centralized database. Give users quick and easy access to contracts and contract data. Manage users according to their permissions and roles and ensure seamless contract collaboration. Allow your team to appropriately access all your contracts from anywhere on any device and ensure your data is in safe hands.
Swift Contract Request and Intake
Stop relying on email to submit existing contracts and request new ones. Design your own customizable contract request web eForms (electronic forms) that can be used to request or submit documents. Send contract requests with a few clicks of the mouse and save a considerable amount of your time and effort.
Smart eSignature Integration
Make contract execution easier and faster with electronic signatures. Allow users to view contracts and request signatures on any device immediately. Speed up contract approvals with Docsvault eSignature functionality that provides a faster legal way to get consent on contracts and offers plenty of other benefits, including verification, audit trail, and security.
Contextual Search Functionality
Spend less time searching for relevant contract information through drives and email inboxes and devote more time to contract strategy. Take advantage of powerful search features like full-text search and optical character recognition (OCR) scanning to search for exact phrases and get desired results. This is a huge time saver for the organization looking to streamline the contract management process.
Automated Contract Workflows
Create highly customizable contract workflows to eliminate the risk of human errors with contract management automation. Docsvault is an automated contract management solution that uses predetermined sequencing for document control (auditing, security, tracking, etc.) to ensure each contract meets its approval in time and effectively. The document management system workflow also sends automated reminders, alerts, and notifications to users.
Templates for Quick Start
Instead of building contracts from scratch every time, use pre-existing contract templates and pre-approved clause libraries to generate contracts quickly and easily. Docsvault legal file management software offers tons of pre-built contract templates to get you started in a few minutes. Tweak them to your requirements and save your precious time.
Auto Email Reminders
The process of manually keeping track of contract deadlines and sending follow-up emails and reminders is time-consuming, laborious, and inconsistent. Docsvault's auto email reminder jobs allow you to send out personalized reminders in the form of emails that can be sent out on schedule to your customers or vendors based on predefined rules.
Benefits of Contract Management System
Below are the key benefits of paperless electronic contract management for your organization.
Improved Contract Compliance
An automated contract management solution reduces three types of regulatory risks. The first is compliance management with a visible audit trail. A paperless contract management system keeps a digital record of each action and signature and provides a standardized audit report with a few clicks.
The second type is contract compliance. A contract document management system utilizes analytics to generate reports that include suppliers' legal or regulatory compliance and how well they adhere to service level agreements. The third is compliance with corporate standards through pre-approved contract templates and clause libraries.
Shorter Approval Times
With customizable workflows, an automated contract management solution completely automates the contract management process, which expedites the review process and improves efficiency. By creating a dynamic workflow to-do list, you can quickly scan all contracts to help contract managers better understand your company's current state of affairs. You can also notify the respective parties by email to remind them of the following steps or clearly define escalation procedures based on this information.
Contract Digitization
A paperless contract document management system provides you with a lean way to embrace technology and save the environment. There is no need to outsource document storage or buy expensive office space and messy filing cabinets. Using an automatic image or OCR, users can scan paper documents directly into the system to ensure all documents relevant to the agreement are accessible from a centralized location. Plus, features like version control allow you to track all of your contracts from a single location.