Mobile Document Management
Docsvault Mobile app is a mobile device client for Android and iOS tablets and smartphones that are freely available from the Android Play and Apple App store. The Docsvault mobile document management app enables you to securely access and search all your documents securely stored on the Docsvault server in your office. Anywhere access to your documents gives your users the power & flexibility of being mobile while still being connected and in the know. Upload documents from your device or click pictures of documents using your device camera and easily upload it to the central repository in your office.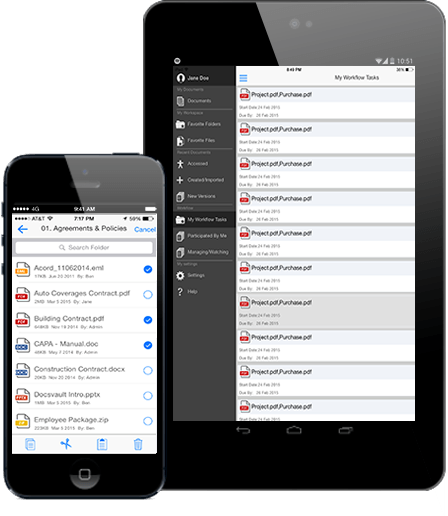 Organizations today encourage a mobile workforce. They have their staff out of their offices or on the road often but that at times create bottlenecks in your business processes. This means waste of time and tasks not being completed within deadline. When you put necessary information in the hands of your workforce no matter where they are, you not only make your workforce more efficient but also ensure your company's growth and success. Docsvault Mobile is a simple and handy app that makes working, collaboration and mobile document management easier. It allows you to easily upload documents to your repository, so you never miss out on important documents again! Most importantly, you can add notes and descriptions for your team, so work doesn't stop if someone is out of the office. Docsvault Mobile is a secure way to keep your documents accessible and speed up business decisions.
Available for Android 2.3+ and iOS 6+ devices for both phones and tablets

Its completely free for Enterprise Edition users!

Security: Only users with web access rights can login using Docsvault Mobile Apps

Security: Only connects using a secure SSL connection
Get the Apps
Your Docsvault Enterprise must be up to date to 8.0 or later to use the latest Docsvault for Android and iOS.