Paperless HR
Go paperless while increasing efficiency and compliance
Human Resources is one of the most document-intensive departments in an organization. They not only have to face the challenge of document storage but also risks associated with protecting a high volume of sensitive information.  Paperless HR solutions for HR forms, employee handbooks, onboarding materials, and benefits can save time, streamline workflows, and eliminate the challenges of managing and organizing HR documents.
Docsvault paperless solutions for HR allow you to maintain your HR records electronically. Everything is easily accessible, neatly organized, and fully searchable. That not only means less physical clutter in your Human Resources Department but also less time spent looking for documents when needed. Our document management software for HR is designed to meet best practices for records retention with secured storage and access control.
Paperless HR
Manage your Human Resources documents with Docsvault HR document management software
The term "paperless HR" refers to the digital transformation of HR functions through advancements in data collection, processes, and services. It is meant to improve employee experience and help organizations succeed by transforming the HR functions from paper-based and time-consuming to digital-first by continually transforming in an agile way.
Docsvault HR document management offers a wide assortment of tools to digitize HR paper documents, optimize HR processes and stay compliant.
Digitize Human Resource Documents
Docsvault consistently manages HR documents from all sources. You can conveniently access digital files from any location, saving both space and time. Payroll statements, for example, can be printed directly into the digital files using a print command from any payroll program. Emails and paper documents can be captured and stored in a centralized repository.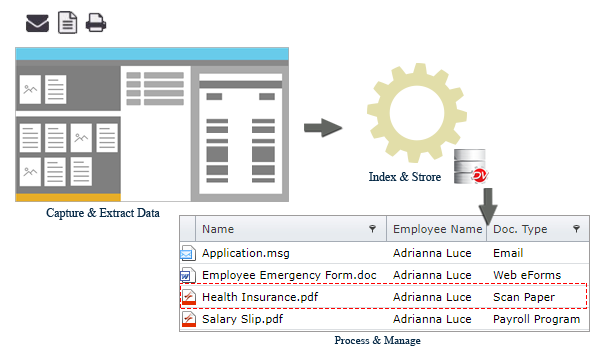 Extract Human Resource Data
Scan and convert your HR paper records into digital format for easy storage and retrieval. Optical Character Recognition (OCR) and automatically identify and extract data from paper records and PDFs and convert them into structured usable data using our smart data capture.  This reduces processing errors and increases productivity.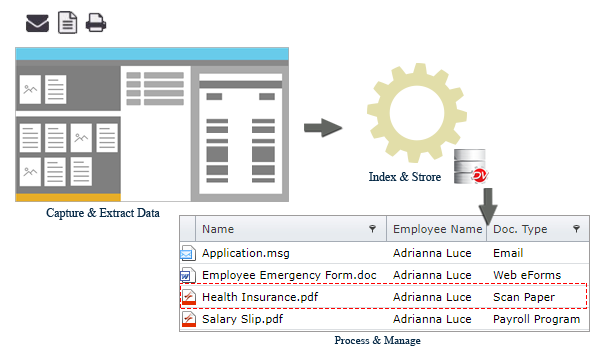 Digital HR Forms
Design important HR forms using Docsvault's Web eforms. This ensures consistent data capture, complied in the right format to easily amend in the templates for future use.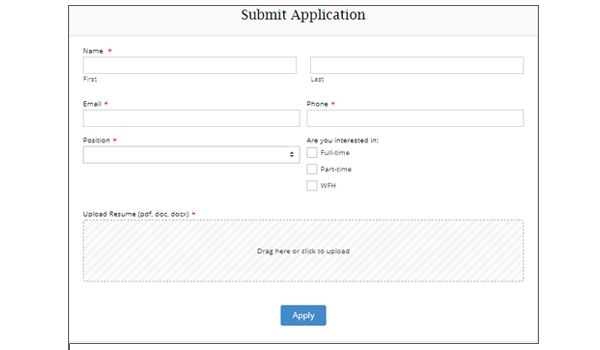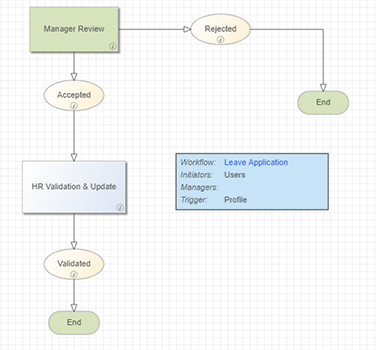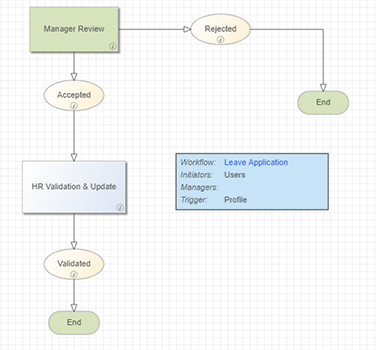 Automate HR Process
Automate administrative processes by routing documents and forms through customizable approval workflows. This simplifies your workflow process so you can focus on other important tasks.
Digital Signature
Automatically route HR documents like offer letters, employment contract, new and updated policies and procedures to your employees and seek their acknowledgment through digital signature to stay compliant.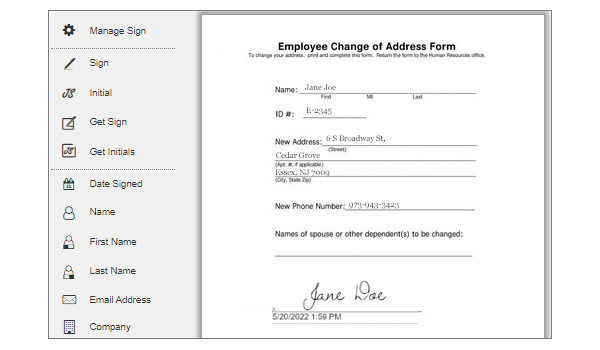 At-a-glance benefits of Paperless HR
Paperless HR can benefit your organization in number of ways.
Standardize your HR systems

Ensure a consistent filing system

Improve Productivity

Maintain document control

Address compliance obligations

Provide better customer service