Capture Data using Advanced Import
Docsvault Advanced Import add-on is typically used to capture data exported from third party applications or other high volume scanning software. Using the 'Advanced Import' method, documents from a watch folder can be imported based on their metadata available in separate csv index files. You can name, file and profile documents dynamically based on document metadata captured from index files. Docsvault will even create new folders on the fly as necessary based on the index values and filing rules set. This method of capture is a fully automated and highly accurate method of filing documents from external data.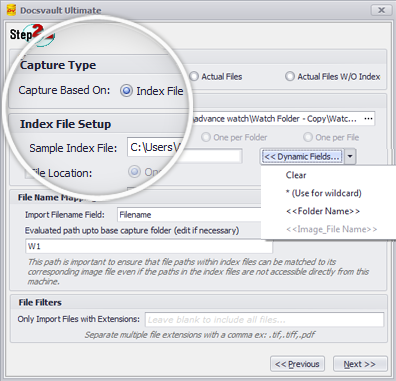 Docsvault's advanced import reduces hours of drudge involved in importing mass data manually and helps in quick sifting and sorting through automatic import and filing. With the advanced import module, you can now use the advanced scanning software that you might already have using barcode and zone OCR scanning capabilities. Many applications allow export of documents along with metadata which can now be imported into Docsvault with desired naming and filing rules. You can even specify a format for captured Numeric & Date fields while mapping with Docsvault index fields. This is also an efficient way of transferring your data from older DMS to Docsvault.
Fast Facts
Flexible enough to allow import of data from any csv files
Ability to specify a field value separator for when data being imported has multiple values for the same index field separated by a specific delimiter character
Uses variables for custom file naming and filing structuring
Allows to specify a profile instead of just index field values for import jobs
Keeps everything organized in one place and allows our external paper to be not as large in size.
Docsvault helped us to go from paper to paperless, no more searching for documents, emails. Take the next step, go paperless, it nearly doubles your efficiency.
I have watched the product grow and expand for ever 5 years since i have been using it. But a good product needs timely and professional support – and DocsVault has both.
An excellent product at an excellent price with excellent usability, coupled with an excellent after sales service, I have no hesitation in recommending this product to any and all of my colleagues.
If you have a customer support performance system you can note an A+ for speed and customer satisfaction. Thanks for the service
Your software is great. I appreciate being logical, simple, and the good compression job it does with PDF"