Centralized Document Management System
Capture, collaborate and organize all your physical and electronic documents in one place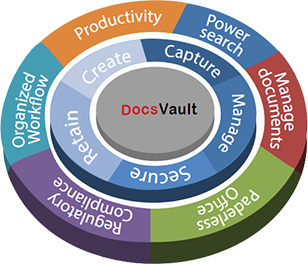 If you wish to build trust in your work processes, it is imperative to have a single source of truth. Silos need to be broken down, and everyone needs to be on the same blueprint of data for cultural, organizational and technical reasons. Whether you wish to decide how to pull together the massive quantum of data in your organization or try to make the existing structures better, centralized document management is the first step in that direction. Share, analyze, and update data across your organization on one single platform with Docsvault. Let us explore what centralized data repository means, why you need it in your organization, how we can help you achieve it and how it can be integrated into your organizational framework.
What is Centralized Document Management?
Centralized document management refer to the system or process that brings together the data from all available sources for effortless organization, insightful analysis and impeccable security.
With centrally manage Document Management Software – Docsvault, your confidential data is protected with features such as access control and two-factor authentication. We go a step further by offering version control to ensure that you get a clear picture of the entire document lifecycle. Not only will centralized document management skyrocket collaboration in your organization, but it will also ensure that only the right people will get access to the data.
What are the Benefits of Centralized Document Management?
Ensures Better Collaboration
In this era where remote working is more popular than ever before, a centralized document management system makes collaboration much easier. Paperwork or files stored locally on PCs that need to be found, emailed, or stored hamper productivity. With features such as document tagging and effortless sharing, the waiting time would tremendously decrease and your employees will be more efficient owing to reduced interruptions. They would be able to access the documents from anywhere and at any time they wish.
Maintain the Workflow
Docsvault becomes an integral part of your organization while respecting the current workflow. We understand that your business documents might involve multiple levels of procedures. With Docsvault workflows you can digitize your manual workflows and benefit from increased processing speeds and reduced errors right away.
Cost-Effective
Inaccuracy can cost your organization billions of dollars annually. Bolster your productivity and produce accurate analysis for better policymaking with Docsvault. Getting rid of the redundancies will also allow your employees to focus on more vital tasks at hand.
Easy Compliance
With centralized document management, you can comply with industry regulations with ease. Access control, audit trail, records retention and other functions will help you maintain control over your documents while still letting information available to the right groups of people in your organization.
Enhance Control
With features such as version history, access control, and audit trails Docsvault will enable touchless document sharing in your organization with incredible safety. Moreover, the workflow would be visible to all the stakeholders. The increased transparency will expedite the audit process.
Docsvault can help you enjoy these benefits and more through its centralized document repository. So how do we achieve this?
How Does Docsvault Ensure Centralized Document Management?
Centralized document management is one of the core features of Docsvault. Here is how it is achieved –
How Can Centralized Document Management Benefit Your Organization?
Here is how a centralized Document Management Software like Docsvault can benefit your organization –
HR Department
The HR department is often bogged down with a never-ending list of document-intensive tasks. Human Resource Management Solution by Docsvault will help your HR department track, store, modify, share, and manage documents under one roof so that the work happens in a go and all the concerned parties can be kept in the loop.
Through a centralized document management system, all the information about employees can be stored in predefined folder templates for easy retrieval. Access control feature can be utilized to ensure access to selected users only. Every action performed on the documents is tracked to maintain authenticity.
Accounts Payable Document Management
For an organization, suppliers are as important as customers if not more. Despite having sufficient funds, there might be an inadvertent delay of payment due to negligent invoice work.
If these invoices are maintained on paper, there is a significant loss of time due to circulation amongst various departments. The missed deadlines can tarnish the reputation of an organization immensely.
Instead, you can choose to automate the process of accounts payable invoice using the Automatic Data Capture Solution of Docsvault, whether they arrive by email or paper. Next, they can be automatically named, filed and routed for approval to the concerned employee. Your team can collaborate by utilizing document notes, document profiling & tagging and being automatically notified when an approval or further processing needs their attention.
Contract Agreement Management
Several complex types of documents are either produced or demanded by organizations to carry out their corporate affairs. Mishandling of these documents can have a catastrophic impact, and can also affect employee morale.
By storing these contracts digitally on Docsvault, you can eliminate the chances of manual errors. Furthermore, Docsvault can remind you or expiring contracts and allow approval workflows for revision of contracts when necessary.
Centralized document management ensures that everyone is in sync with the latest version of these documents.
With Docsvault, you can switch from a paper-intensive enterprise to a digitally empowered paperless one. Centralized document management permits cross-functional access and elevates the data to the value that it actually represents. Since data is the most crucial asset of an organization, its storage collection and safety should be treated as prime consideration.