Employee Document Management
Effortlessly store, share, manage HR documents.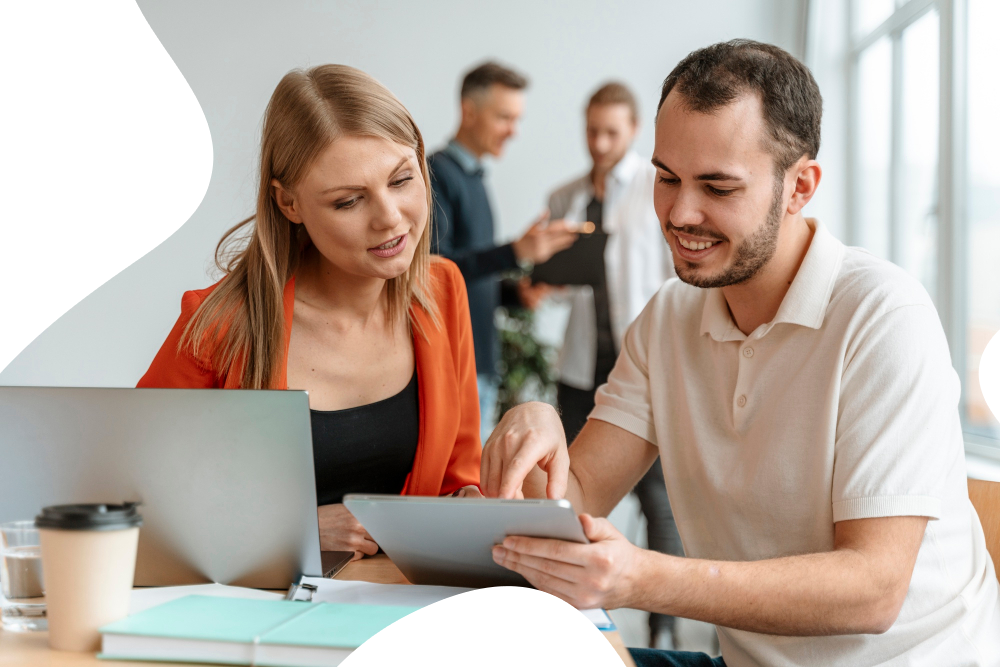 People management is a critical function of any human resource department. However, managing the mound of paperwork that comes with it is just as crucial to the success of your business.
A comprehensive Employee Document Management protects sensitive data, improves administrative efficiency, and protects your business from risky practices. It also provides statistics to your management to help them make better decisions.
What is Employee Document Management?
Employee document management, also known as human resource document management, is a process of storing, organizing, and retaining company records and employee information while remaining compliant.

Docsvault is a digital Human Resource document management software that provides an electronic filing system to store HR documents with the ability to easily retrieve documents.  You can set expiration dates for time-sensitive documents and assign role-based security. Document management software system allows the HR team to manage documents efficiently and compliantly.
Employee Document Management Features & Capabilities
Manage your HR documents without any hassle with Docsvault HR document management software.
Centralize all your documents
Centralize all company and employee documents on one platform and easily retrieve any document within seconds. Manage and control how your documents are accessed using tools like two-factor authentication, access control, records retention, alerts, and audit trail. Stay compliant and prepare your documents for audits.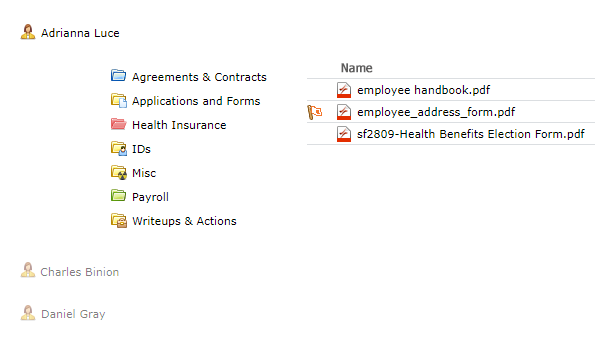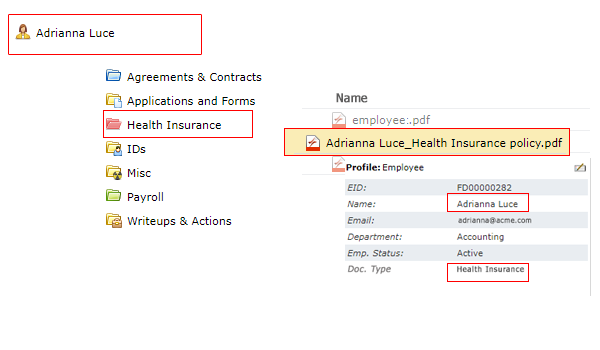 Auto Filing Documents
Automatically add new documents to the right employee folder whenever you onboard a recruit or collect new docs from existing employees. Empower your HR team to focus on compliance and accuracy rather than document management using features like auto filing based on index values or collecting documents with document requests links.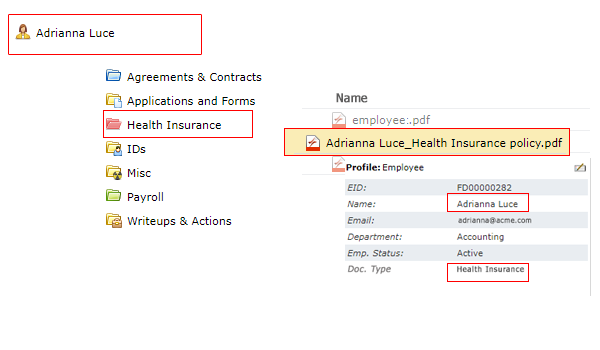 Streamline Workflow
Automating the process of converting a paper document into a digital format improves the workflows of HR departments. When you need to make changes in the company handbook or when you want your employees or the legal team to sign documents, it can be done promptly and efficiently right within the Docsvault interface. You can easily route electronic documents for approvals and acknowledgments.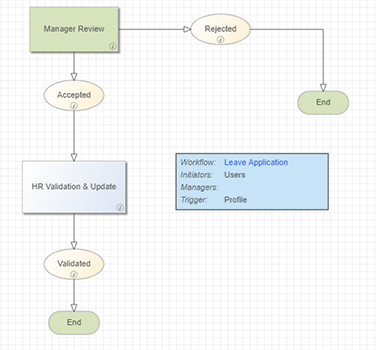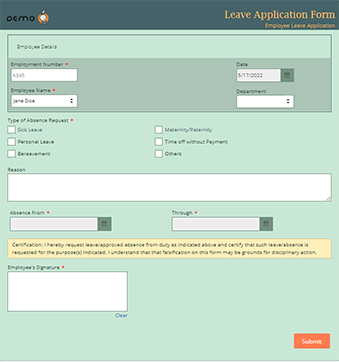 HR Forms and Automation
Employees can now engage with the HR department more efficiently using Web eForms. Employees can utilize HR forms to electronically submit anything from leave applications to status change requests reducing the need for paper forms. You can also create workflows to get these documents signed and delivered to the right person.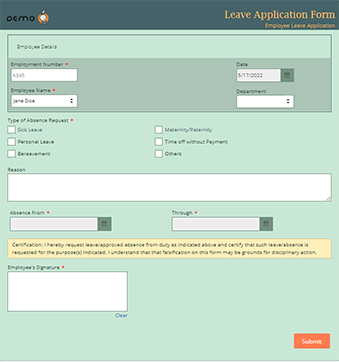 Employee Self-Service
Enables employees to securely access documents and update their documents without contacting HR. Access & edit permissions can be defined based on the employee's role. You can increase transparency and boost employee productivity with an employee self-service platform.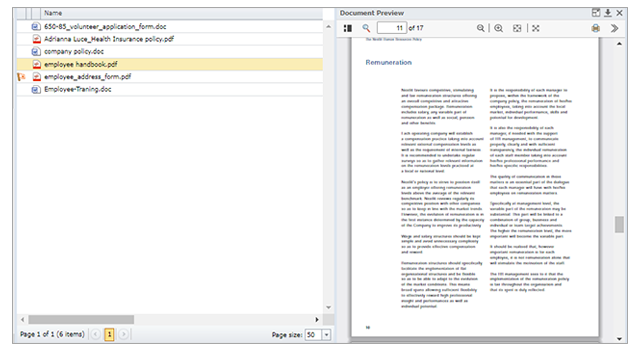 Benefits of Employee Document Management System
Below are the key benefits of having a document management system for your Human Resource Department.
Stay Compliant
One of the key benefits of a document management system for HR documents is that it allows an organization to remain secure and compliant. Having a comprehensive document storing system with a records retention system ensures that your organization meets all the necessary regulations.
Maintain Privacy and Security
Employers are obligated by law to protect sensitive employee data, such as medical records, disability information, social security numbers, and other personal information. Having an employee document management system in place will have robust security features that meet these legal requirements.
Boost Productivity
HR departments are more productive when they can easily find documents and have a consistent file management system. They will be able to spend less time digging through file cabinets or boxes full of unstructured paperwork and more time doing things like managing employee relations. Centralizing paper and electronic documents will ensure all HR documents are in one place and easy to access.