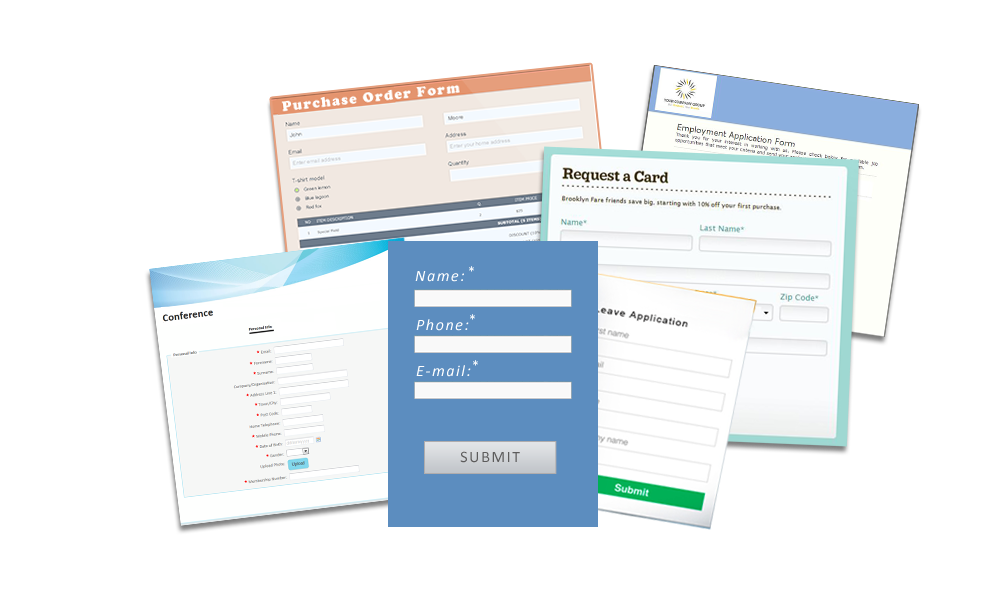 Are you exhausted finding a better way to deal with employee requests for leave? Managing paper forms or emails from employees for leaves can at times be complicated and time-consuming.
Docsvault's web eForms add-on can be designed to replace nearly any paper-based form in HR, Accounting, Sales, and more.
Examples of Web eForms for Human Resouce Department
Here is an example of an electronic form used for requesting a leave.
Employees who miss a workday due to an illness or emergency can inform their employer immediately.  Let your employees apply for leave directly online. Make this form available to your employees by embedding it into your website or sharing it internally within the organization.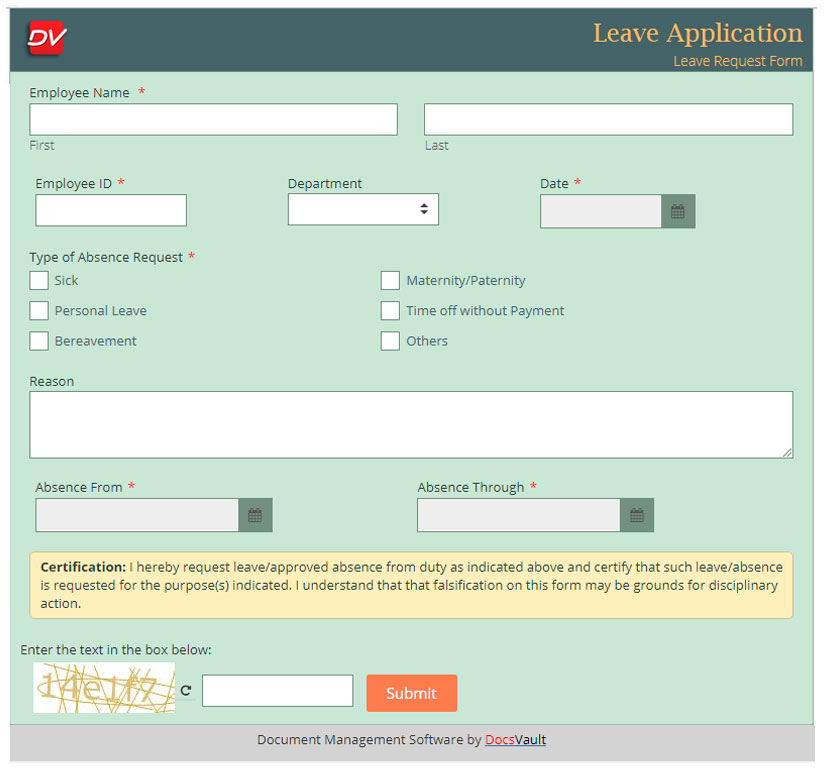 Capabilities of Web eForms
Effective Leave Management
It becomes easy for an employee to submit their leave request application via an online form.
Paperless Requests & Approvals
All employee leave requests can be automatically routed to their manager for approval. Managers can approve/deny with just a click.
Instant Notification
An automatic email and popup notification can be sent to the related team members on form submissions.
Upload Supporting Information
Employees can upload necessary support documents (say, medical reports) and digitally sign the form. This form can be converted into PDF with embedded attachments and can be saved in a specific folder that can be accessed by their manager and Human Resources.
Benefits of Web eForms
Shorter processing time:
Electronic submission enables faster processing
Approvals workflow:
Eliminate manual process with automated workflow
Track progress:
Stay informed of the progress of your application in Docsvault
Comprehensive Reports:
Get a complete history of the leave usage for individual employees
Thus, Docsvault Web eForms can eliminate many of the non-value-adding tasks that waste time and add cost to processes for almost any department from accounting to human resources.