Workflow Management System
Optimize, Improve, and Automate Any Business Process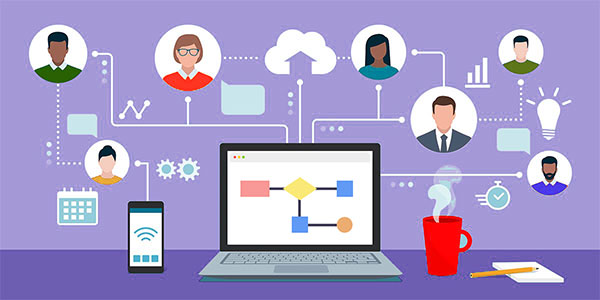 Organizations handle a large amount of data and paper documents.  There is a review & approval process and lifecycle for each document that flows through a channel. In today's world, this requires a digital solution. One way to achieve that is through document management software (DMS) and workflow management system (WMS).
Let us learn more about what workflow management is, and how using a combination of workflow automation and document management can pack a "one-two punch" against your old, outdated manual processes.
What is Document Workflow Management System?
Document Workflow Management is a system that helps an organization to design, execute, and automate various business processes where tasks are passed from one participant to another for action, according to a set of procedural rules.  It also allows you to view process and performance metrics to assess whether a process requires improvement or acceleration.
Many a time, repetitive and redundant tasks result in reduced organizational productivity. A document workflow management system helps streamline these tasks to increase productivity and ensure the follow-up of pending tasks along the business process cycle.
Key Benefits of Document Workflow Management:
Boosts productivity

Improves accountability

Imparts process transparency

Improves customer service
How Docsvault can help to Automate Your Document Workflow Management
For privacy reasons YouTube needs your permission to be loaded. For more details, please see our
Privacy Policy
.
I Accept
Docsvault provides a robust document management system that includes workflow management as a standard feature. It is designed to provide your company with better business management and organization capabilities.
Electronic document management enables you to streamline paper and electronic documents into a centralized, searchable, secure digital repository. Digital Workflow can be used to accelerate the cross-enterprise business process by routing electronic documents between your decision-makers. Your team can access documents for reviews and approvals from anywhere and on any device.
Docsvault Workflow Management System automates and streamlines major business processes such as invoice approval, order processing, HR processes, legal and regulatory compliance, change requests, etc., and reduces delays and errors associated with circulating paper manually. It provides a consistent and transparent user experience with reusable, standardized workflows.
Key Capabilities of Docsvault's Document Workflow Management System
Streamline the Workflow Process
Document Workflow Management System can be used to create simple or complex document-centric workflow procedures without coding to automate any business process. Document workflow routes information electronically and keeps everyone informed so the possibility of errors or lost documents while changing hands is eliminated. Gone are the days of a document buried under a heap of files on a desk, waiting to be signed.
Users can see document tasks that are in their queue for review
Get access to reliable data and information in real-time
Increase collaboration and teamwork regardless of where users actually work
Set workflow priority to promote specific workflow instances
Allow multiple digital signatures on a document for approvals
Take Ownership of a workflow step or delegate a workflow task thereby claiming a workflow task and relieving other participants
Prompt and mandate workflow participant to fill out comments and necessary information before moving the workflow further
Automate Document Workflows
Document workflows can be configured to automate certain parameters during the workflow process making things run smoothly without human intervention and errors. Document management software is capable of doing many things, so the processes can be as simple or as complex as needed.  Automation can be set to:
Initiate a workflow using location or document profile trigger
Perform automatic actions on workflow documents when a workflow is initiated, completed, or transitioned from one step to another
Allow users to automatically delegate workflow tasks to other users while on vacation or on an ad hoc basis as needed
Auto-create PDF versions during the workflow process
Export workflow documents and their profile metadata automatically to a predefined location in order to integrate easily with any third-party applications
Automatically trigger back-to-back workflows on documents
Improve the Document Workflow Process
With document workflow management software, users know when they have work to do, and managers can monitor every step within workflows. Alerts can be set up to:
Notify a user when any work is assigned
Notify managers and other users as the workflow progresses
Alert users if a step in the workflow is taking longer than scheduled
Send Reminders for pending tasks on demand
Document Workflow Flexibility
Automated workflows save a lot of time for users and reduce the number of mistakes made by human error at different steps in the process. Dynamic workflows take this one step further. Dynamic workflows can improve business workflow with flexibility as they are able to respond to change and adapt to the changes in the workplace.
In Docsvault, document workflow can be set-up to react to events and changes in a context such as:
Adding dynamic Participants to any workflow
Assigning dynamic dates for indexes during the workflow process
Setting current user's name as the index value to dynamically set author, approver, etc
Dynamically returning workflow to any previous step and assign it to the previous participant only (among a group) or the initiator of the workflow
Managing Document Workflow
Docsvault provides built-in individual and manager-level workflow reports to enable you to assess the efficiency of your workflows and related business processes. You can use these reports to locate problems with processes or to determine whether a group or individual is meeting performance targets for a particular business process.
By identifying uncertainty and problem areas that slow down business processes, your team is free to focus on the work that drives productivity and profit. Docsvault is perfect for a team that is spread globally or working remotely and need to operate at full productivity.
Document Workflow Automation Examples
From manufacturing to wholesale, government to healthcare; Organizations across the world are discovering the benefits of digital transformation.  Below are just a few examples of the most common types of workflow automation.
Accounts Payable Invoice Workflows
Invoices are captured as they arrive by email, or paper and imported into the Docsvault repository. In the process, they are automatically named, filed, and routed for approval to the concerned employee. You can streamline your invoice processes with automated AP invoice workflow to save time, money and reduce errors.
Human Resource Workflows
Human resource workflow allows you to automate paper-based forms and manual procedures, such as leave application, performance reviews, etc. by providing a centralized system for submitting, storing, approving, and tracking HR requests. Docsvault's Web Forms can be designed to replace nearly any paper-based forms and automatically route for workflow approvals improving HR processes.
Quality Assurance workflows
Docsvault provides tools for the automation of quality processes, like CAPA, customer complaints, non-conformance, change requests, and more. These processes, which are often form-based and unique to a department, can be designed using Docsvault Web Forms and automatic document workflows can be triggered on form submission ensuring corrective actions in due time.
Review and Approval Workflow
Organizations have a number of internal processes for tasks such as work order processing, travel expenses, purchase requests, and so on. The document workflow management system streamlines the review and approval process of documents as they go through their lifecycle.  Using the Docsvault Mobile app, the easiest mobile document management, you can review and approve tasks while on the go.  You can easily view documents, add comments and keep track of your tasks.
When documents are managed electronically, workflows are more transparent and reproducible. Document workflow management system dramatically simplifies document-centric workflows.