Human Resource Management
HR department handles many different types of documents during and after the initial employee onboarding process. The HR Department is required to keep contracts, employee surveys, performance evaluations, benefits forms, legal forms, etc. in perfect order. The volume of documents that HR departments handle further increases with constant changes in employment conditions. HR department also need to be prepared for audit and various reporting requirements. All these responsibilities make it difficult for your human resources management team to work efficiently without the aid of proper document management software.
Docsvault HR document management solution offer features like integrated scanning, centralized HR records management and retention, secure file management, quick and easy access to human resource files and much more. Docsvault offers a well-rounded set of features that helps boost productivity of your HR department, thus enabling smooth working in your organization.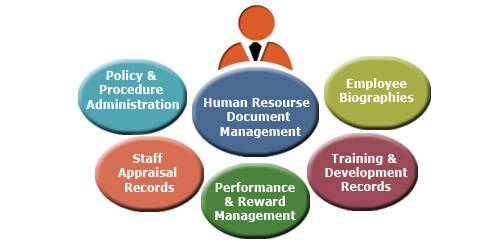 Benefits of Docsvault HR document management solution
Key Benefits of Workforce Document Management with Docsvault
Consistent document filing and reduced storage costs

Thorough and step wise onboarding process

Smoothly manage all human resource processes

Automate various mundane HR tasks

Save time on scanning, saving and searching

Manage retention for records as per policies

Run various HR reports on demand