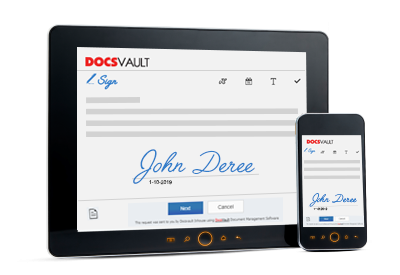 Easy Data Access introduces a new and improved way of getting document signed using Signature Requests right from within Docsvault. This feature is a part of the Digital Signatures Add-on and is available with the latest release of version 12. Signature Requests feature speeds up the signing process, reduces operational and processing costs and promote a paperless environment.
Docsvault's user (the sender) can request anyone outside the organization i.e. non-Docsvault user to digitally sign documents. The sender can set a due date and track the entire signing process. It is a perfect solution for organizations who wish to send an online request to multiple signers to sign any documents.
Signers are able to sign documents online from any computer, smartphone, or tablet using a modern web browser. They do not need to sign up or purchase Docsvault to sign documents.
With its intuitive and simple interface, Signature Requests feature allows signers to select and manage their preferred method of signature. They can either draw their signature & initials using a mouse, their finger or a stylus on a touchscreen, select from many available styles or simply upload an image of their signature. They even have options to add date, text and other annotations if required on the document while signing.
Once the documents are signed by the signer electronically, these documents are automatically routed back to the Docsvault, document management repository for archiving or trigger a workflow for further processing.
See How does Docsavult's Signature Request Works
This new feature answers today's dynamic and competitive online business environment where organizations are looking for proven, secure and compliant solutions for a paperless business transaction. Docsvault' Signature Requests feature includes flexibility that allows insurance companies, financial services, sales organizations, government agencies, and many others to conduct seamless and rapid business process that reduces costs, increases productivity, and promotes a green paperless environment.
To learn more about Docsvault's Digital Signature add-on with Signature Requests, see Request Signatures or call 888.819.3035.
View Press Release