Get documents signed by anyone online, in minutes!
With Signature Requests feature, collecting signatures from anyone outside the organization is quick and easy.  Authorized Docsvault users can get signatures for contracts, agreements, or any documents from right within Docsvault – No printing, faxing or mail delivery required!
How it Works
See the action step-by-step
Sending Signature Request
Step 1. Initiate a Signature Request
Authorized Docsvault users can initiate a signature request from Signature Requests interface OR directly from the document's right-click menu.

Step 2. Adding Signers
You can add Signer's name and email in the order you want the documents to be signed. You can also specify other options like password & expiry date of the requested link.
An optional message for signers can be added. You can also select Docsvault users who should be notified about the progress of this signature request.
Once you've sent the request, you can stay updated on the progress of the signers from the Signature Requests interface.
Signer's Experience
Documents sent by Docsvault's Signature Request can be signed on any computer, smartphone, or tablet using a modern web browser. Signers do not need to sign up or purchase Docsvault to sign documents. They just need to have an active internet connection to access and sign documents online.
Step 1. Review the Signature Request email
The signing process starts by receiving an email send by Docsvault on behalf of the sender for a signature request.
Step 2. Agree to sign electronically
In some cases, signer might be asked to enter a password before accessing and signing the documents. This option is set by the sender of the request.
The Signer clicks Continue to agree to electronically sign the document.
Step 3. Start the signing process
The Signer is taken to the signing interface where they can view and sign the documents and optionally add annotations.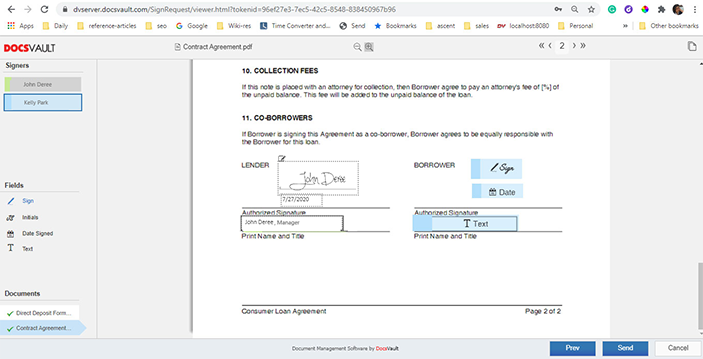 Step 4. Downloading Signed Documents and Signature Certificate
The last signer in the process (or the first signer in case of a single signer) can click on the Download button on the success page to easily download signed documents and optionally the signature certificate. Additionally, an email notification with a download link is sent to all the signers once the signature process is complete.