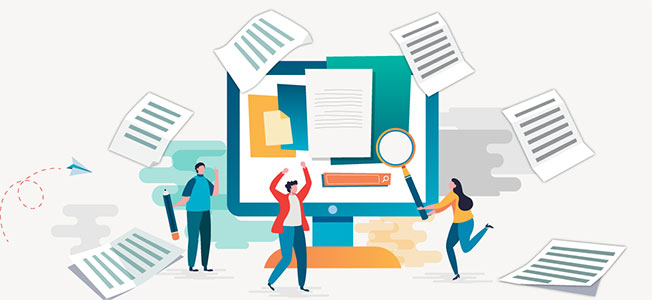 Workers spend a lot of their time hunting for business documents. In this world of cut-throat competition, can you afford to attract fines or even lose out on critical deals because of mismanagement? Absolutely not.
Documents form the spine of a business, and no enterprise can survive without them. Right from organizing internal processes to ensuring seamless external communication with vendors and customers, the importance of business documents cannot be overlooked.
So, we are here to help you get a more holistic perspective on the most critical business documents, and how to organize files to save time and effort.
What are Business Documents?
Every successful business has a well-functioning digital filing system to store all books, files, records, business correspondence and plans, and other confidential financial and customer data. Here is a list of the documents that are imperative for an organization to function –
Documentation of Bylaws
Non-Disclosure Agreement
Operating Agreement LLC
Minutes of Meeting
Employment Agreement
Business Plans
Business Reports
Financial Agreements
Transactional Documents
Business Insurance
Partnership Agreement
Co-founder Agreement
Business Pitch Deck
Investor Agreement
Board Resolutions
ESOPs Agreement
Accounting Agreement
Franchise Agreement
Trademark
Compliance Document
Agreement with Vendors
Client Agreement
Company Policy
With so many documents, it becomes critical to have an efficient file management system in place. Imagine working in a grocery store without aisles, sections, or any other organization. Can you imagine how frustrating that would be? Without knowing how to organize files, your employees would face this every day when they come to work. So, let's explore further.
How to Organize Digital Files?
There is no magic formula. Every business is unique, and so are its employees. The first rule would be to ensure that you organize the files logically. Not everyone might search for files the way you do, so it is pertinent to ensure standardization. The auto-filing feature of Docsvault makes it easy to find and impossible to lose files.
1. Avoid storing the files on personal computers.
Under no circumstance should you or your employees ever store files on their personal computers. Not only would this pose pressing cybersecurity concerns, but it would also hamper collaboration. Also, there would be a poor separation of business and personal files.
Docsvault offers a central repository for storing files so that your team can access and collaborate on the files whenever and from wherever they wish to. Further, the two-factor authentication and access control feature ensure that your organization's critical data is safe at all times.
2. Group files by category.
Opt for main categories that align with your business's size, industry, or how it functions. Here are a few categories that you may consider for your cabinets–
Departments
Clients
Products
Users
Depending on the unique needs of your business, you may devise subcategories as well. With the auto-filling system of Docsvault, you can store files with the same index values together in folders.
3. Go for hierarchical order.
Since most business activities are recurring, it makes sense to organize the files in a hierarchical order for easy reference. Once you have organized the files in broader cabinets, you can then categorize them into folders and sub-folders. Docsvault offers pre-defined folder templates to help you. If you make any changes in the master folder, they can be implemented across too. Through metadata and index, your employees would be able to view the content of a document without even opening it.
4. Choose good filing name conventions.
It can be exasperating to look for files with vague names like "presentation01" and "notes02". So, you must opt and fix standard file name conventions.  The general rule for file organization is to be consistent and descriptive. Docsvault's Document Profiling and Tagging feature let you automatically file the document and name the file based on index values entered.   This feature helps in maintaining consistent file names, reduces misfiling, and makes bulk importing of documents very easy.
Here are some general tips to help you adopt good filing name conventions for your digital filing system –
Not every software will work with long file names. Be as concise & descriptive. The maximum length of a pathname should be 256 characters, which includes all parent directories and the filename.
Opt for underscores (file_name) or dashes (file-name) instead of spaces.
If you opt for chronological order, choose the YYYYMMDD format for dates. The year first format makes it easy to find the newest/oldest files.
The numbering of the files should be sequential, like 01, 02, etc.
Avoid using special characters in the file names, like @, #, $, and more.
5. Marking Files & Folder as Favorites.
If you tend to use some folders more than others, you can mark them as your favorite. This classification will help you locate the files in no time. For the other documents, you can utilize the easy-to-use search engine, which even considers texts within documents.
6. Stay consistent.
No folder structure or digital filing system is perfect. Everything boils down to what suits the needs of your organization the best, at any given point. However, it is vital that your team stays on the same page throughout the process and aims to be consistent. It will ensure that you don't land up with a half-arranged file management system.
Wrapping
By adopting the best practices listed in this blog on how to organize files, you will be able to locate the files in your organization in a jiffy. Your team will be able to collaborate seamlessly, and your clients will be happier with better customer service. For a document management solution that is tailored to suit the needs of your organization, choose Docsvault.