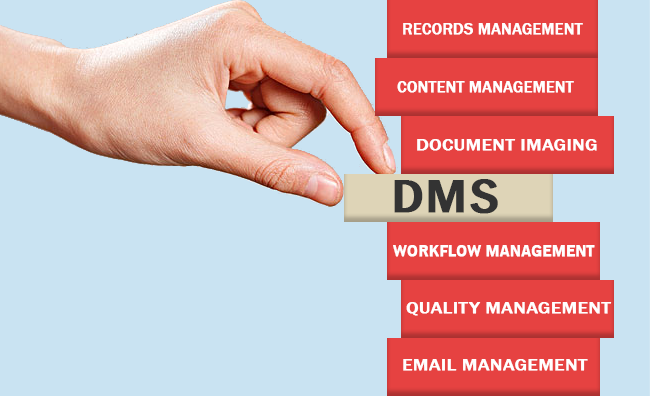 Today, organizations of all sizes face a number of challenges in dealing with paper documents for their business processes. Records kept on paper are at risk of damage due to fire, theft, pests, etc. Traditional document management methods on paper are no longer considered productive. Businesses need an effective document management system to ensure smooth functioning and improve efficiency.
How does a document management system work?
The main functions of a document management system are to capture, store and distribute documents. Documents may be captured from a paper by scanning them, emails & attachments, system-generated reports, or from other programs like ERP or CRM. The collected documents can be centralized so that it can be accessed by everyone in the organization based on specific user needs and roles. The web document management solution and mobile app allow authorized individuals to access the documents from anywhere and at any time, while also ensuring that there is no breach of data.
Types of document management systems
Although the functionalities of a document management system are relatively simple, there is a wide range of tools under the umbrella of DMS. Let's explore the different types of document management systems.
Document Imaging System
The process of "digitizing" paper documents is known as document imaging. In simplest terms, document imaging is the process of utilizing a scanner to acquire flawless images of your documents, which you may then save electronically rather than physically.
Docsvault's robust document management system offers a document scanning and digitization tool that allows you to efficiently collect and manage images from different sources and help convert paper files into digital files.
Content Management System
Content Management System (CMS) is a tool that is used to centrally store and manage digital content, allowing multiple users to collaborate on them. It also provides version management and automated workflow for faster and more efficient business processes.
Docsvault, an effective document management system has a Content management feature that provides a centralized repository where business information is securely stored and it is accessible based on the rights given to the users. You can index the documents so that you can effortlessly search the files you need.
Records Management Systems
Record could be any information maintained for any business transactions. Some of the examples of records include invoices, final reports, budget documents, company balance sheets, emails, etc. Records management is a system designed for controlling the creation, maintenance, receipt, and disposal of information, regardless of its format.
Docsvault's Records Management System is a simple and effective solution for organizations looking for a total records management system from the creation of records through to its disposal. It allows you to safeguard or eliminate records according to your organization's policies or regulatory laws.
Workflow Management System
A workflow management system is used to identify, automate, and enhance an organization's business processes in order to increase productivity, reduce errors, and improve efficiency. A workflow includes any number of predefined steps and may involve predefined participants. Those who manage workflows get opportunities to eliminate bottlenecks and improve visibility into the flow.
Docsvault provides a robust document management system that includes document workflow management as a standard feature. It is designed to provide your company with better business management and organization capabilities. Digital Workflow can be used to automate repetitive processes by routing electronic documents between your decision-makers. Your team can access documents for reviews and approvals from anywhere and on any device.
Quality Management System
Quality Management Software (QMS) System in a company can be defined as a centralized system that helps in the quality management process, which may include corrective actions, audit management, document control, and change management.
Docsvault provides a quality management software solution that provides document centralization and reversion control to manage information and documents in accordance with industry regulatory compliance standards. It also allows better collaboration within an organization resulting in a quick resolution to issues.
Email Management System
Email management system provides handling for a volume of email messages, for business processes.  It categorizes and manages individual emails and attachments using rules defined by the users.
Docsvault's Email Management system offers a comprehensive approach that incorporates email communications with all other document types in a single, searchable, location. Email archiving solutions can provide complete storage, classification, and retrieval of this important business information. Automatic Email Capture helps you to capture, organize, and index email communications and attachments.  It speeds up communication by delivering your important emails straight to your repository and allowing you to make decisions faster.
HR Document Management System
HR document management software (DMS) is a system that helps in capturing, storing and managing essential documentation for employees in an organization.
Docsvault is a digital Human Resource document management software that provides an electronic filing system to store HR documents with the ability to easily retrieve documents.  You can assign role-based security and allow the HR team to manage documents efficiently and compliantly.
Choose The Best Document Management System for You!
Here are a few features you should consider before choosing the Document Management Software for your organization.
Scanning & Capture
The Document Management System must work with most scanners to convert paper files to digital files, and users should be able to easily change file types if necessary.
Search Capabilities
It's not enough to be able to search merely by file names. The ideal Document Management System (DMS) should offer a variety of search options, including keyword searches, latest changed dates, file types, metadata search, and other parameters.
Document Management & Organization
The organization and storage of files in the DMS should be user-friendly, and authorized users should be able to access them from anywhere at any time.
Fine-grained Security & Audit Trail
Document security is very important in any document management system. Only authorized users of the files on a DMS should have access to the documents. You must be able to set access permissions on the system's files and folders.
Furthermore, the administrators should be able to view the activities on a document. These activities include creation, modification, copying, moving, deletion, and so forth to identify each step in the process the document goes through.
Integration with Other Software Applications
Ideal document management must be able to integrate with other software applications such as ERP, Payroll, CRM, Accounting Software, etc.
Online Access
Document management systems must be accessible from anywhere at any time so that employees can work more conveniently. Employees should also find it easier to work on the go with the mobile document management system.
Docsvault, an effective document management system software ensures that your documents are safe, accessible, searchable, and adaptable. It also includes features like electronic workflows and reminders, as well as the ability to add metadata to files that would be difficult to locate, contextualize, or understand without it.
Read more about our unique Document management features while you're here.