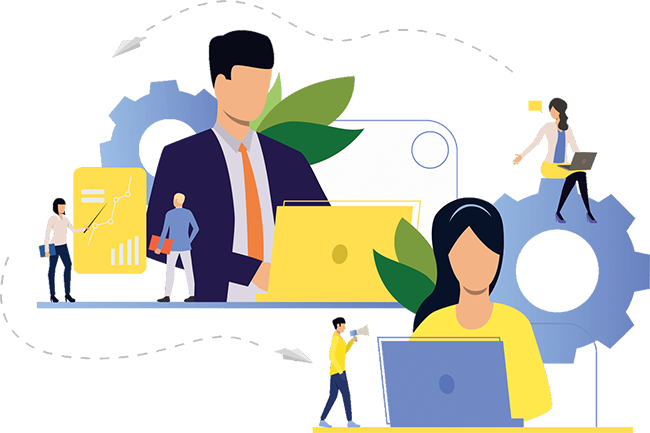 Documents are the spine of every business. With the onset of the pandemic, several companies transitioned to the online model from brick and mortar. It necessitated efficient document management solutions which align with the requirements of businesses.
Yet, it is a crowded field with a plethora of options. Where do you start from? Which file management system will be the best for your small business? Let's explore.
What is a Document Management System?
Document management system refers to a medium by which teams can go beyond the paper-based workflow and do all their business online. The latest solutions go a notch above the traditional file management systems by offering enhanced security, connectivity, and sharing. Ultimately, they bring consistency to business processes.
While the need of every enterprise is different, document management solutions are beneficial for small businesses as they automate workflow and digitize processes. They are efficient, cost-effective, and bolster efficiency.
So, what do you need to look for while choosing a document management system for your business? Let's find out.
How Can You Choose the Right DMS for Your Small Business?

Not all document management solutions are created equal. Before you rush to purchase one, you must consider the following:-
Know Your Needs
You should figure out the specific document management needs that you wish to address before deploying the technology. It is a good idea to sit with your team and assess the situation to comprehend what will work for them. Further, you should also make a list of the software that you wish to integrate with your document management system. After analyzing the growth of your company, you should finalize a records management system that can help you meet future challenges.
Ensure That There is a Backup
There must be an adequate arrangement for backup to ensure the security of your documents and data. This backup process should be strong enough to form an integral component of the data recovery plan of your organization.
Choose the Right Vendor
The vendor makes all the difference while choosing document management solutions for your small business. Ensure that the vendor has several years of experience to back their expertise and industry relevance. Easy Data Access has been providing document management solutions since 2003. Docsvault is already an integral part of over 3000 companies across the globe. Steer away from the vendors offering unbelievably low prices. It is better to invest in the right file management system earlier than to regret your decision later. Make a detailed list of your preferences, issues, and needs and discuss it with vendors. Compare the prices and the responses and make a well-informed decision.
Look at the Administrative Control Features
Apart from the external factors, you also need to safeguard your organization's crucial data against internal threats. The software must provide administrative control options so that you can regulate which employees get "read-only" access and which ones get extended permissions to move and delete files. Through Docsvault, you can create cabinets and restrict the teams and individuals who can access specific documents. Also, you can develop a framework of these permissions for certain positions to ensure smooth onboarding. Finally, the software must cater to the needs and responsibilities of temporary employees who work on short-term projects.
Go for an Intuitive User Interface
The user interface of your records management system should be effortless to navigate. An intuitive interface will boost the productivity of your employees as it is easy to understand and that people can learn to use it quickly, with minimal instruction. You can even offer extensive training to some of your technically sound employees, who can then guide the rest on getting the most out of your file management system.
Ensure Security
The world is plagued with catastrophic Cyberattacks. If you wish to stay on the safer side, choose a document management solution that prioritizes security. In fact, reputable vendors will stress it as their key feature. You should continually assess the current threat landscape and the challenges faced by your organization to fortify your network. While finalizing a document management software, ensure that you are well aware of its security features, how frequently they get updated and how you would be informed about the latest patches. Docsvault is compatible with two-factor authentication and offers on-premise data storage. The redact feature lets users hide sensitive information within documents as well.
Choose a Document Management Solution with Appropriate Integration Capabilities
One of the primary reasons for opting for a document management solution for your business is to streamline and simplify everyday administrative tasks. Thus, the DMS should be compatible with your current software so that you can bring all of your documents onto a single integrated platform. The right file management system ensures tight integration and works seamlessly with your core business processes like accounting.
Multi-Source Document Input
It is vital to ensure that the document management solution allows for inputs from various sources, like emails, scanners, and bulk uploads. Once a document has been scanned, the system should intelligently extract and validate the data within the files. For instance, Docsvault offers a built-in PDF editor which allows editing and addition of texts and annotations. Also, the system should tag and categorize files to enable easy retrieval through a user-friendly search engine.
Ensure Collaboration
Though initially the document management solutions only worked on replacing the metal file cabinets, their functionality has expanded now. With the transition to a remote workforce, there is now a growing need to ensure efficient collaboration. The employees should be able to access files simultaneously without logging out and track revisions and document versions in detail. The system should catalog all changes and store the document versions in a logical sequence so that your team can access them quickly.
Choosing the right document management solution for your small business can be a challenge. Address it by firstly understanding your needs and the available options. With a centralized repository, Docsvault resolves some of the most critical challenges faced by small business owners while streamlining workflow.