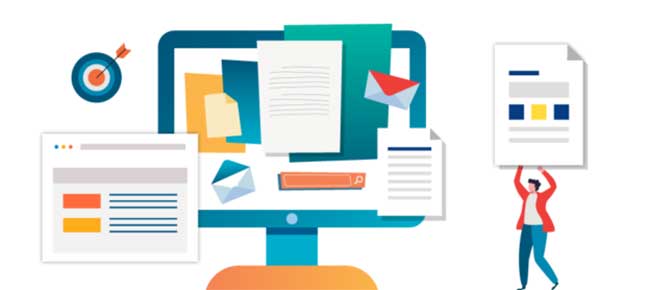 Documents are the lifeblood of any business. They reveal the story of a company: its beginnings, goals, and the pathway it's on to attain them. To start, run, and expand your organization, you'll need documentation. Business documentation is important for long-term growth that propels your company to new heights.
Types of Business Documents
Business documents are files that a company keeps for both internal and external transactions, and they can be electronic or physical. Business documents can be used for a variety of reasons, like staying compliant, providing governance, protecting your organization's integrity, and much more. Typical business documents are business licenses, invoices, confidentiality agreements, employment agreements and records, vendor agreements, business policy, financial records, purchase orders, and so on.
Proper documentation makes it easy to regularly guide and manage the individuals with whom you work. Making sure you have an effective file management system can help ensure you have your documents in place when you need them.
What is an Electronic File Management?
Electronic File Management (EFS) is  a document management software solution that allows you to capture, store, and manage physical and electronic files. The EFS is specifically designed to replace physical file cabinets. It also includes features like search, mobile document access, document distribution, and editing documents.
The following are some of the tools that are available on Electronic File Management System:
Scanning and Digitizing paper files
Centralized Document storage
Document Editing and Version Control
Document Security and Audit Trail
Full-text search and Metadata Management
Keeping track of the lifecycles of documents and records.
Secured File sharing both inside and outside the company
Collaborative Document Tasks and Workflows
Benefits of an Electronic File Management System
Investing in an Electronic File Management System and digitizing your paper files will not only provide a great return on investment but will also lay the foundation for your organization to flourish by automating business processes and improving efficiency. Below are a few key benefits of moving to Electronic File Management.
Quick and Easy Document Storage
Paper-based systems demand a large amount of storage space which is very expensive in long run. Such expenditures can be greatly reduced with the use of an Electronic File Management system. An Electronic File Management system allows employees to save information easily and quickly in a centralized repository. Going paperless using document scanning and digitization not only saves money on space, but also saves time spent faxing, copying, and physically searching for files.
Better Document Versioning
Any organization will have many people sharing and working on documents daily. In business, ad hoc versioning causes uncertainty and turmoil. An Electronic File Management system (EDMS) has built-in document version control that makes document versioning simpler and systematic. You can easily retrieve and edit information in the latest or an older version of a document for enhanced research, decision-making, and auditing. Version Control replaces the dependency on individuals for retaining older versions and saving a new version with an automated approach to store document versions.
Improved Document Collaboration
You cannot track the communication and interaction properly when collaborating via emails and handwritten notes. Furthermore, it is difficult to trace the development of a project or plan during the review process. This approach wastes time and effort because it's tough to keep up with the latest advancements and efficiently implement modifications and ideas.
An electronic file management system offers you many smart document collaboration tools at your perusal such as version notes, document notes, task notes, email integration, document workflows, full audit trails, and much more. It ensures that all documents, notes, and newest versions are available to everyone in your office at the same time and that everyone is on the same page. Handwritten notes, emails, and whiteboards are successfully replaced by document and task notes as a smarter approach to cooperate and communicate, allowing decisions to be implemented into action and follow-up to be done more effectively.
Enhanced Regulatory Compliance
Maintaining compliance with local and federal standards for data security and reporting is becoming increasingly important due to the severity of potential legal and financial liabilities. Every business has its own set of regulations and following them isn't always simple. In every department, be it accounts, sales, marketing, IT, or operations, compliance is critical to every employee. Before your company thinks of establishing company-wide data security and compliance and integrating modern technologies, you need to ensure you have a strong compliance program in place that facilitates the addition of modern technologies, policies, and procedures. An Electronic File Management system helps organizations minimize risks and ensure regulatory compliance. Let's find out how Docsvault can help meet regulations. It can make compliance with HIPAA, ISO 9001, SEC, GDPR, FDA, and other federal or state regulations much easier.
Increased Productivity
Time is money, and saving time is a clear benefit of using Electronic File Management software, which offers automatic tools to manage documents more effectively. The time that you saved for your employees is the time they can spend improving your business, this translates into higher productivity. Document management software can also be scaled to match the changing needs of any business.
How to Store and Organize Digital Files?
It's important to keep documents organized and accessible, whether you deal with paper documents, electronic files, or both. This way you can save time hunting for things, and you'll always have the right information you need when you look for it.
According to a recent survey conducted by Wakefield Research and Elastic,  54% percent of U.S. office professionals report wasting time searching for documents and files they need than responding to emails and messages.
By adopting the best practices on
how to organize digital files and folders
in a document management system, you will be able to locate the files in your organization in a jiffy. Your team will be able to collaborate seamlessly, and your clients will be happier with better customer service.
Tips to Manage Your Documents Efficiently
Implementing an Electronic File Management system necessitates organizational change, including operational and cultural changes. And so, here in this compilation, we will be looking at 4 effective ways of maintaining and arranging your electronic documents.
1. Centralize your document repository
A centralized document management system is a file-sharing platform that allows you to securely upload and save documents in one location. Files can be checked in and out, edited, and re-uploaded by users. Depending on the amount of access granted by the site administrator, they can also remove or relocate files around the enclave. The smoother the process is for everyone involved, the more easily available customer information is for important stakeholders.
Docsvault, an Electronic File Management Software provides several levels of access depending on the position. Different team members can have different rights, permissions, and levels of access that are restricted to other departments, all while maintaining all of the data in one, secure location.
2. Set the standards Storage Policy ahead of time.
The second step in creating a foolproof organizational framework for your papers is to establish standards. Train your personnel on how to follow the uniform storage policy of documents within the organization for better collaboration. This is especially critical if you're working on a document with multiple employees or if you have a remote team.
Docsvault, an electronic File Management System Software provides a convenient way for users to quickly create files and folders based on a pre-determined style formatted to company guidelines.
3. Regularly delete or archive outdated or useless files.
Another way to ensure your electronic file management system stays organized is to remove files or folders you no longer use or rarely need to access. Cleaning out old files ensures that your system remains free of the clutter that may make it harder to locate relevant documents. Many companies are required to retain business documents and records either to meet their business and administrative needs or to comply with legal and industry regulations. The amount of time documents must be kept is determined by their administrative utility, vital and historical significance, and legal or regulatory obligations. With today's massive volumes of documents produced by enterprises, effective document management has become a key concern.
The Records Retention module in Docsvault makes document management simple. It enables you to manage the whole lifespan of records, including the circulation of physical records, from defining retention policies to the final disposal. It keeps track of all record actions to ensure that records are totally traceable and defendable.
4. Backup your important documents regularly
Backing up your data is essential in securing your files from being lost or destroyed. As part of your Electronic File Management system process, make sure to take backups of your essential documents regularly. Backups ensure that you can access your files even if your computer or hard drive fails.
Docsvault, an effective document management software provides Backup and Restore tools to take timely backup and restore as part of a disaster recovery plan and ensures your important information is safe.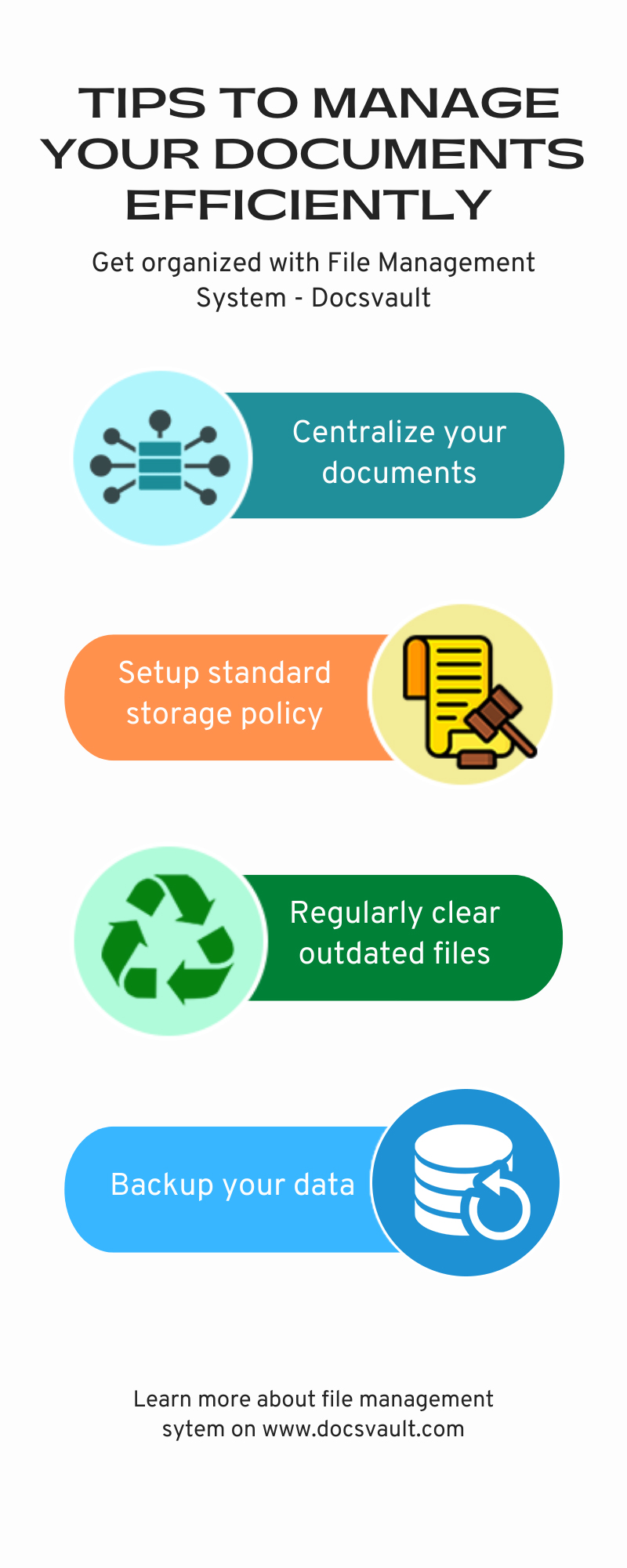 Conclusion
There are several benefits of using an Electronic File Management system (EDMS) from time and cost-efficiency to enhanced productivity. An Electronic File Management system provides an easy and secure method to manage your business documents.