Industry:
Municipal Government
Client Business Description
Warwick Township – a municipality in north-central Lancaster County, Pennsylvania. It is a suburb with a population of 19,251. The client has been in business since the colonial era.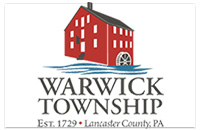 Docsvault has helped us to scan records and maintain them off-site in the event of a natural disaster, fire, or other loss of records. We did experience a building fire during the term of the contract and although our files were not damaged, it would have enabled us to retrieve them.
How we helped
We helped the client with our on-premise document management software, Docsvault, which enabled them to manage the life cycle of their crucial property records. With our award-winning software, they were able to scan their property records and ensure their safety.
Centralization of Documents
Through our state-of-the-art software, we helped the client capture, store and organize their property records electronically in a centralized database. As a result, both internal and external users could access records from anywhere on any device, depending on their user roles and permissions.
Comprehensive Document Searching
Docsvault made it possible for the client to instantly search and retrieve property records with specific keywords like names, dates, locations, etc. They could use advanced search functionalities like full-text search and optical character recognition (OCR) scanning to quickly find what they need. This proved a huge time saver for them.
Tight Document Security
Docsvault also enabled them to restrict access to sensitive documents as necessary with user- and group-based security rights. The client was able to assign rights like Edit, Delete, Export, Preview, Read, etc., to specific users or groups for specific files, folders, or cabinets. Security Templates further allowed them to apply predefined security to different areas of Docsvault quickly.
Read More: Tools For Document Security
Quick Disaster Recovery
Timely automatic backups are integral to Docsvault to ensure your information is safe. Using Docsvault's backup and restore tools, the client was able to retrieve their records during a natural disaster. The client even had a building fire during the contract term; thankfully, no files were damaged because of using Docsvault.
Document Profiling/Tagging
Docsvault's Document Profiling and Tagging feature enabled the client to automatically file documents, name files, and save them into predefined folders based on index values and filing rules. This feature helped them maintain consistent file names, reduce misfiling, and simplify bulk importing of documents.
Multi-Functional for Different Purposes
Some other features that helped digitize the client's manual document managing process include:
Document Editing, Correction & Redaction: Docsvault PDF Editor allowed the client to edit text and images in standard PDF files. They could work with PDFs just as they would with paper documents. 
Seamless Sharing and Collaboration: Scanning and digitizing property records made it much easier for the client to share and collaborate with other team members. They could remotely access, view, and edit files simultaneously, increasing productivity. 
Audit Trail History: With this feature, the client could get the complete history or log of any activity happening on a file or folder inside Docsvault. Visible audit trails keep users updated about all changes to a document. 
Digital Signatures: Docsvault eSignature functionality helped the client speed up the approval process. They could request signatures on any device immediately.
Document Version Control
The automated document version control of Docsvault allowed the client to manage multiple versions of the same document properly. They could easily retrieve and edit information in a particular version or instantly roll back to any version. They could even control which version is visible to all users.
Read More: Tip – How to control document versions in Docsvault
Access On All Devices
With Docsvault, the client was able to access and search all their files on multiple devices, from desktops to browsers to mobiles, through Android, iOS, and Web Apps, anytime, anywhere. This gave the client much flexibility and convenience.
Results
The on-premise document management software proved a lifesaver to the client, all stakeholders, employees, and users. They now use it as a central repository to capture, save and share their property records in digital formats. As a result, it saves them a lot of time and improves team collaboration to a great extent.
The client now has a centralized repository to store property records electronically.
The process of saving documents, getting approvals and setting their visibility was streamlined.
The software saves a huge amount of time, effort, and money managing their data.
The software enhanced team collaboration, as it helped the client to keep track of team members and meet project deadlines.
Retrieving the desired information was easier than before.
The software helped boost employees' productivity by up to 40%.
The client made better use of their Microsoft Office Suite license, thus making Docsvault a cost-effective solution.