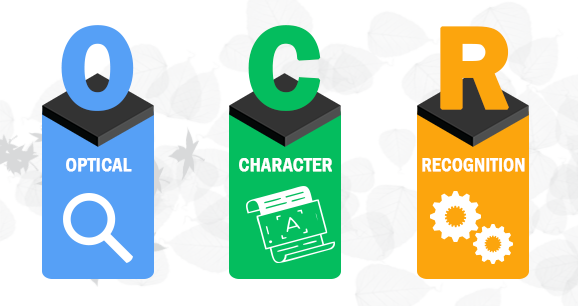 OCR stands for Optical Character Recognition. It is a technology to convert text from scanned documents into searchable and editable digital files. How does OCR do this? OCR software reads the scanned images and creates a layer of hidden text below the image so that your computer can read, identify, and search this text. Let's go through the details below.
Why is OCR important?
According to Gartner, by end of 2022, 90% of large organizations will have implemented some form of robotic process automation (RPA). The rising use of RPA highlights the importance of OCR technology, which converts typed or printed text into a machine-readable format.
Many organizations still receive information in paper format. Business processes include paper forms, invoices, legal documents, and printed contracts. It takes a lot of time, space, and effort to store and manage these large volumes of paper documents.
The solution to this is using document management software with OCR. Optical character recognition is the most important feature of any paperless document management system. The OCR software recognizes printed text, and you can search by the content within.  You can also make changes to the scanned document, just like you can do with any other text document.
How does Optical Character Recognition work?
The optical character recognition software operates in the following way:
Scanning Document
The primary step for digitization is to OCR scanned documents. The OCR software considers the light regions of the scanned images as backgrounds and the dark areas as text.
Preprocessing
The OCR software first cleans the images by deskewing or tilting the scanned documents to fix the alignment issue during scanning, despeckling or removing any digital image spots, smoothing the edges of text images, etc.
Text recognition
The OCR software further processes the scans to identify alphabetic letters or numeric digits from printed text.
Postprocessing
The OCR system converts the unstructured data into usable information that can be searched and edited for further processing.
What are the types of OCR?
OCR technology can be categorized based on its use and application. The following are a few examples:
Optical character recognition (OCR) – captures typewritten text, one glyph or character at a time.
Optical word recognition – captures typewritten text, one word at a time, and is usually just known as OCR.
Intelligent character recognition (ICR) – targets handwritten or cursive text, one glyph or character at a time, usually involves machine learning.
Intelligent word recognition (IWR) – captures handwritten or cursive text, one word at a time.
What are the benefits of Optical Character Recognition (OCR)?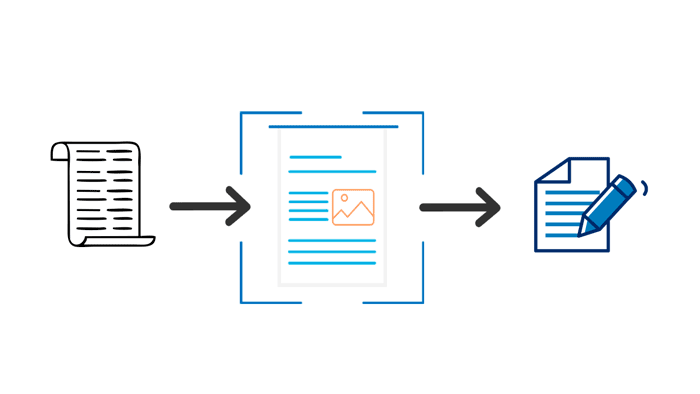 Although the technology behind OCR is slightly complex, its benefits are clear. The key advantage of optical character recognition (OCR) technology is that it simplifies the data-entry process by creating effortless text searches, editing, and storage.  The machine-readable text that is generated by OCR can easily be read with the help of PDF readers or screen reader applications, making it easy for people who are blind or have visual impairments to easily understand what is on the screen.
The other benefits of OCR technologies include the following:
Save space by digitizing paper documents.
Save time required for manual data entry.
Improve information accessibility for users.
Speed up the document workflow process.
OCR Paired with Artificial Intelligence solution
OCR accuracy for basic software is around 98%. Using AI technology will increase accuracy even further.  Intelligent Data Capture AI technology, for instance, improves OCR invoice recognition. Using a deep learning algorithm and with occasional assistance from a human operator, it learns naming standards and template formats to automatically identify and capture accurate data. This gives the AP team an opportunity to move from the back office to the front lines. Artificial intelligence technology helps businesses make better operational decisions that reduce expenses and improve customer service.
Who can benefit from OCR?
Any organization planning to do away with paper documents can benefit from OCR. Apart from the more common use cases mentioned above, sectors right from banking and financial to healthcare, legal, and accounts departments rely heavily on OCR.   Here are some common use cases of OCR in various industries:
The optical character recognition process can be used in the healthcare industry to capture patient records such as treatment, lab reports, and doctors notes.
Local government agencies can convert decades of public records into searchable digital documents.
Legal firms can digitize years of records and cases.
Universities can process students' and employees' HR paperwork faster.
Organizations can make sure that they are making payments on time by intelligently capturing data from bills, invoices, and receipts.
How can Docsvault help with OCR?
As a pioneer in document management software, Docsvault is constantly providing the solution for organizations to go paperless.  As the world is moving toward digital technology, more businesses are adopting OCR.
Docsvault offers the following OCR solutions to improve your business processes:
Simple Optical Character Recognition (OCR) Software
The Optical Character Recognition (OCR) add-on automatically reads and identifies text in documents scanned or imported into Docsvault and converts them into searchable PDFs. The identified text is then indexed by the indexing engine, allowing searching for documents based on words, phrases, and numbers in their contents.
Intelligent Data Capture
Docsvault Advanced Capture Solution helps in taking your automation a step further with artificial intelligence (AI). Docsvault helps in streamlining document-intensive workflow by automating the process of capturing, classification, and extracting important data.
Click edit button to change this text.
FAQs
Where is Optical Character Recognition (OCR) commonly used?
Docsvault Team
2022-07-19T14:21:41-04:00
The most common use is for simple document scanning – converting printed text documents into editable and searchable text documents. Increasing use of optical character recognition (OCR) systems has been seen in the sector of retail, government, transport & logistics, healthcare, accounting, insurance, finance, IT & telecom, manufacturing, and others.
How big is the optical character recognition market?
Docsvault Team
2022-07-19T14:20:51-04:00
According to TMR, the optical character recognition market was valued at US$ 70 million in 2019 and had a volume of 15,457 thousand units. It is predicted to grow at a CAGR of 15% from 2020 to 2030.
What is the required resolution of the scanned documents for OCR accuracy?
Docsvault Team
2022-07-19T14:25:12-04:00
In general, 300 dpi will be a good resolution for OCR accuracy. 400 dpi may be better for a very small print.