Client Business Description
Acino is a Swiss pharmaceutical company headquartered in Zurich, Switzerland. They develop, manufacture, and internationally market well-proven and innovative pharmaceuticals in novel drug delivery forms.
The client is a leader in advanced drug delivery technologies focusing on oral dispersible forms and modified release oral forms, for which they also hold several patents.
With a clear focus on selected markets in the Middle East, Africa, the CIS Region, and Latin America, the client has been operating in some of the world's most dynamic countries for the past 14 years. They heard about Docsvault through different eDMS system reviews.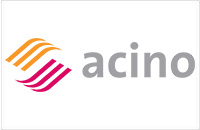 The solution is excellent, stable, and easy to administrate. It has increased the productivity of our team. On average, one user has signed more than 200 documents during the last year – helping us to save a lot of trees.  We have received amazing support which is difficult to overrate.
How we helped
We helped the client with the Docsvault Enterprise Edition, our on-premise document management software that enabled them to streamline their document storage, tight security requirements, and document review and approval processes as well as all their essential requirements of signatures and sharing. With our award-winning software, the client was able to get the necessary signatures faster and share documents with their external partners without any hassle.
External User License
With Docsvault's External Users License feature, the client could securely share dozens of documents with their external partners, vendors, clients, contractors, business associates, or offshore project managers to collaborate on a particular shared project. This feature allows you to create a shared common space where you can drag and drop the documents and make them available only to authorized external users. As a result, they can access only the selected folders you share with them.
User & Group-based Rights
User and group-based access control and various system-level rights enabled the client to restrict access to sensitive documents. With this feature, they were able to assign rights like Preview, Read, Edit, Delete, Export, etc., to specific users or groups of users for particular files, folders or cabinets. Furthermore, User and Folder-based "Ownership Overrides" allowed admins to retain ownership of files and revoke access for external users instantly.
Digital Signatures
As mentioned earlier, one user, on average, signs more than 200 documents every year in Acino. Before using Docsvault, getting users' signatures was a big hassle for the client. With Docsvault eSignature functionality, the client was able to send signature requests to multiple users simultaneously and get documents signed immediately. This drastically expedited the entire review and approval process.
Read More: White Paper on Digital Signature Online
Multi-Functional for Different Purposes
Increased Productivity: According to the client, Docsvault increased employee productivity. Also, the carbon footprint of the company was reduced to a great extent.
Centralization of Documents: Through our state-of-the-art software, the client was able to capture, centralize, manage, and secure their documents electronically in a centralized repository. This made it possible for internal and external users to access records on any device from anywhere.
Automated Document Workflows
Using Docsvault, the client was able to design, execute, and automate various business processes through highly customizable automated workflows. This minimized the chances of human errors and significantly sped up the approval process. Moreover, the software also enabled users to send automated notifications, reminders, and alerts to users.
Read More: Digital Workflow Automation – Benefits and Use Cases
Seamless File Sharing and Collaboration
Scanning and digitizing documents made it much easier for the client to share and collaborate with team members on various projects. In addition, they were able to share documents with their external partners, who could remotely access necessary documents.
Results
The on-premise document management software proved a boon to the client, their employees, and external partners. They now utilize Docsvault to streamline the document review and approval processes, collect signatures remotely, and manage all their documents in a structured manner. As a result, the software increases productivity saves time, and helps reduce their carbon footprint significantly.
The client has a centralized repository to store all their documents electronically.
They now have a system that fulfills FDA, EudraLex, and Data integrity requirements.
The review and approval process is now more streamlined.
The client is able to maintain a clear structure of the documents in different departments and countries.
They can now share documents with authorized external users without any hassle.
The software helps boost employees' productivity manifold.
The client can now design, execute, and automate highly customizable workflows.
Getting the necessary signatures from users has now become much easier.
Docsvault saves clients a huge amount of time, effort, and money.