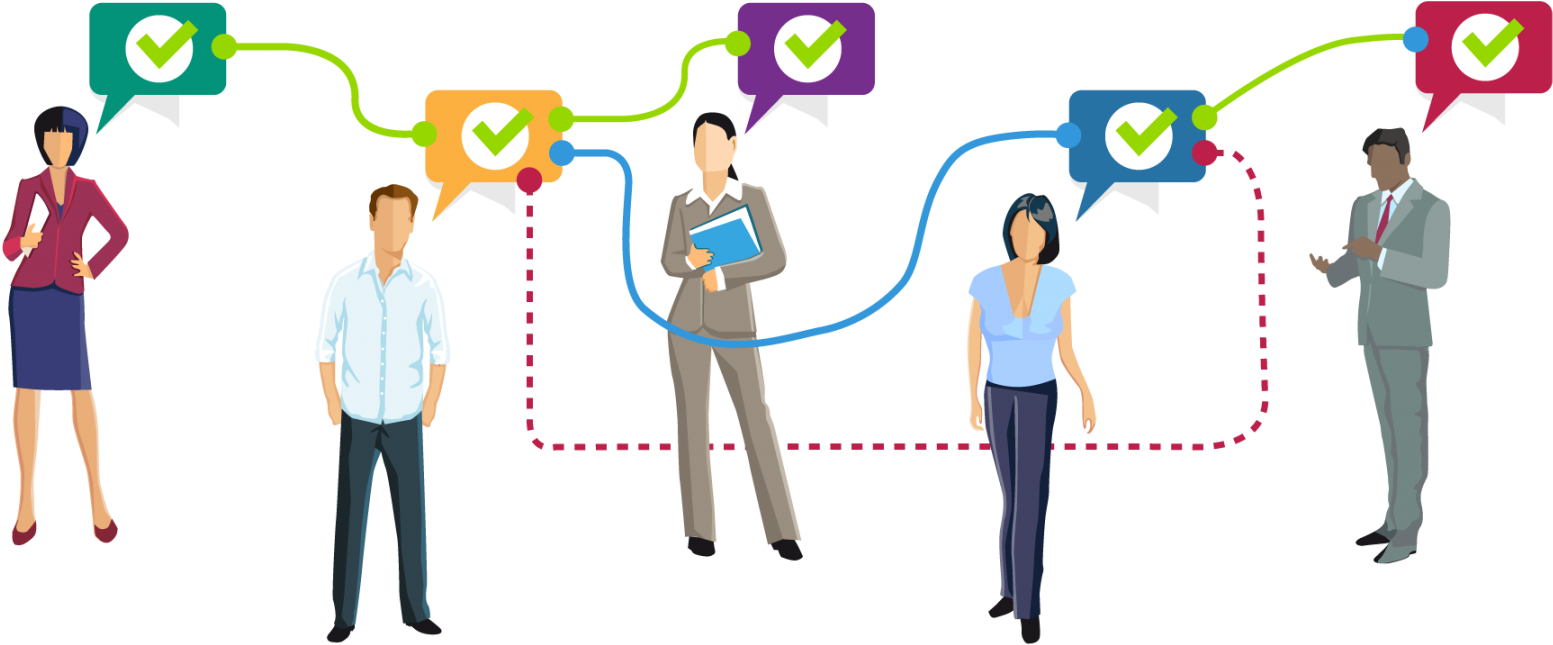 Repetitive, Recurrent, and Redundant – the 3 R's that adversely affect the efficiency of business processes.
The less time spent on these 3 R's, the higher the efficiency and productivity of a business.
Handling business processes manually is not only slow and tedious but also labor-intensive in most scenarios.
So, the question is how to optimize business workflow without compromising the output quality.
The answer is "Digital Workflow."
This article covers:
Benefits of Digital Workflow System

Increased Productivity
Enhanced Process Transparency
Error Reduction
Insight into Business Process
Increased Cost Efficiency
Improved Customer Service

Implementing Document Workflow Automation in Docsvault
What is Digital Workflow?
A workflow is a sequence of goal-oriented tasks in a business system, from start to finish, manual or automated, via humans or systems.
It is often used to map out the progress of a service or project from beginning to end in an easy-to-follow and understandable manner.
A digital workflow, on the other hand, is a series of actions that utilize computers and software for replacing the need for manual or paper-based business processes, especially repetitive ones.
For privacy reasons YouTube needs your permission to be loaded. For more details, please see our
Privacy Policy
.
I Accept
Unlike manual workflows that rely on humans at every stage, digital workflows are generally automated to save time and increase efficiency.
Benefits of Digital Workflow System
No matter your company size or industry, a digital workflow system can benefit you in several ways.
From eliminating the risk of human errors to decreasing redundancies, here are some notable advantages of implementing a digital workflow:
Increased Productivity

or audit trail tracking, negatively affecting productivity.

With a digital workflow system, not only can you keep a better eye on the status of a document or project but also identify bottlenecks that are hurting productivity.

Also, there is no need to manually track documents while they pass between different users and departments.

Enhanced Process Transparency

Transparency is essential in every business.Defining users and tasks in a digital workflow system makes every participant aware of their priorities and responsibilities.Each member assigned to the workflow is visibly accountable for completing their tasks on or before time.Thus, digital workflow automation promotes transparency and accountability by providing a highly collaborative work environment.

Error Reduction

Operating with no error is nearly impossible for humans.Generally, the more people are involved in a business process, the higher the chances of errors and inconsistency.

A digital workflow system enforces business rules, sets alerts for errors, and minimizes the need for individual data inputs.

Automating business processes reduces the scope of human errors that are Indispensable in manual processes, thereby improving data quality.

Insight Into Business Processes

With digital workflow software, you can check on the status of any process as an end-user quickly and easily.For example, you can see the status of your vacation request or even submit an expense report to your manager in real-time.And as a manager, you can get valuable insight into your organization's workflows to identify bottlenecks before they become a bigger problem.

Increased Cost Efficiency

Accuracy and efficiency equal cost savings.Digital workflow automation helps save the costly hours spent tracking down and fixing mistakes.Moreover, automating administrative tasks enables you to save money that you would otherwise spend on office supplies.As tasks like filing, invoicing, and onboarding become digital, you need less paper, printer ink, and physical storage space, significantly reducing operational costs.

Improved Customer Service

Physical workflows can slow down customer interactions or even spoil them.A digital workflow system facilitates faster communications and business processes, helping you provide better customer service.For instance, you can deliver projects on time and respond to support requests faster with a digital workflow system.
Implementing Document Workflow Automation in Docsvault
1. Digital Workflows for Employee Recruitment and Onboarding
Employee hiring and onboarding can be daunting.
Manual, paper-driven workflow creates inefficiencies and leads to productivity drops. You have to review hundreds of documents, and it's easy for a document to get lost.
Docsvault HR Document Management Solution offers a wide array of tools to digitize HR documents, automate processes, and stay compliant with regulations.
Here is an example of creating a simple recruitment workflow in Docsvault: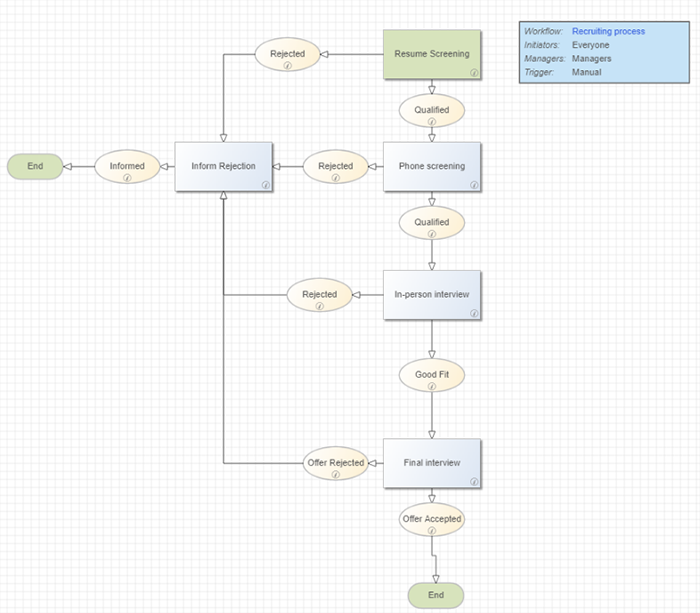 Another noteworthy feature is Paperless HR which allows you to:
Digitize HR Documents:
Docsvault allows you to conveniently manage and access digital files from anywhere, saving both physical space and time. For instance, you can print payroll statements directly from digital files through a print command.
Extract HR Data:
Docsvault's Optical Character Recognition (OCR) tool automatically identifies and extracts data from physical records and converts it into structured, usable data. This increases productivity and reduces processing errors.
Digitize HR Forms:
With Docsvault, you can design HR forms using eForms (electronic forms). This ensures consistent data capture in the right format to amend the templates easily.
Automate HR Process:
Docsvault's customizable approval workflows enable you to automate administrative processes by routing forms and documents. This simplifies your workflow process so you can focus on other critical tasks.
Sign HR Documents Digitally:
Using Docsvault, you can automatically route various HR documents to your employees and ask them to sign documents digitally.
Likewise, with Docsvault's Automated Document Workflow, you can easily digitize and manage various HR processes such as employee onboarding, leave requests, expense approvals, and performance evaluations.
2. Digital Workflows for Expenditure or Budget Approval Process
Managing expenses is crucial in any organization.
Paper-based, manual expense review and approval process not only causes delays and chaos but also takes numerous employee hours while ending up inaccurate, outdated, and costly.
Docsvault's advanced Web eForms add-on helps you streamline your organization's expense approval process.
Users can submit their expenses to their managers by filling up web-based forms, while managers can quickly review submissions and forward them to the next stage in the approval process.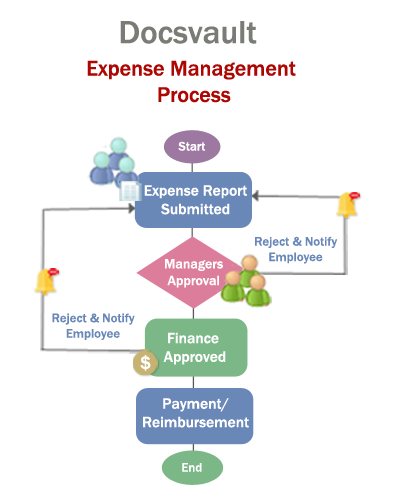 You can even automate the expense management and approval process with features like invoice automation.
This ultimately saves a lot of time for both employees and management and minimizes the risk of potential errors.
Docsvault provides robust document management software that includes workflow automation tool as a standard feature. It is designed to provide organizations with better business document management and search capabilities.
Docsvault Workflow Management Software facilitates the flow of documents in a digital repository that is accurate and timely eliminating the usual hurdles of a manual circulation of documents. It allows you to customize your workflow processes using a flexible workflow designer. Each person gets timely notifications and information they need to perform their tasks.
3. Digital Workflows to Centralize the Purchasing Process
Finance teams can also utilize Docsvault to speed up their business processes with automated digital workflows.
They can use document management software to centralize their purchasing process, collect information through Web eForms, and manage every purchase request accurately and efficiently.
Being a centralized document management system, Docsvault saves information in a single, searchable digital repository.
This ensures effortless document organization, impeccable security, insightful analysis, and much easier collaboration.
Start Automating Your Workflows Today
No matter your industry, department, or business size, leverage the benefits of digital workflow automation with Docsvault, an on-premise document management software you can access from your browser, desktop, and mobile apps.
Request a free, no-obligation yet comprehensive demo or download a 30-day free trial today to see how quickly and efficiently you can automate your workflow.