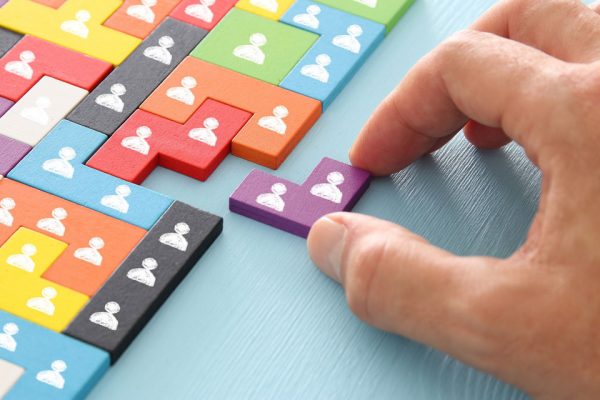 Recruiting in today's world is a challenging task. It is becoming more so as teams and resources shrink – yet the desired outcomes remain the same.
Having the right candidate for the right job is the most valuable asset to an organization. However, the main challenge for a start-up or a well-established enterprise is to attract top-talented and qualified people to their team.
In this article, we will discuss the recruitment challenges faced by Human Resources and how Docsvault, human resource document management software, can help HR departments boost efficiency by automating time-consuming and crucial HR processes.
This article covers:
Top 5 Recruitment Challenges [with solution & tips to overcome]
What are Recruitment Challenges?
If you had to choose one procedure in HR that gave you the most trouble, what would it be? I am guessing it is not your company's "rightsizing," but rather "talent acquisition," which is often seen as a key HR concern.
Many companies are questioning the causes for the drop in recruiting quality over the last two years, blaming it on the pandemic, the recession, or other factors. This might be due to several factors, including the capability and quality of the talent teams recruited to carry out this crucial task. Furthermore, many other aspects are frequently disregarded, and recruitment teams are singled out and held accountable for delivering below-average work.
We have compiled a list of some of the most frequent recruiting obstacles you could face at work, along with advice on how to overcome them using our document management software.
Top 5 Recruitment Challenges [with solution & tips to overcome]:
Recruitment Challenge#1: Finding the right candidates
Today's top hiring difficulty is a lack of qualified candidates. According to a survey conducted by the National Federation of Independent Business, 87% of HR professionals said they had "little or no eligible candidates" for the roles they were attempting to fill.
Unfortunately, situations are only going to get worse. According to a report by the McKinsey Global Institute, firms in Europe and North America will require 16 to 18 million additional educated workers. You will have no option but to engage in the talent wars and compete with other firms for the best individuals.
According to CR Magazine, 92 percent of professionals would consider changing professions if offered a position with a firm with a strong employer brand. The issue is that all your rivals will be hitting the same eligible applicants with advertisements claiming to be the top employers. What can you do to differentiate yourself?
Solution #1: Multichannel recruitment approach
A multichannel recruitment approach allows you to reach out to the best and brightest candidates such as internal and external employee recommendations, job posts on your website, social media, job boards, and collaboration with suppliers and employment agencies.
Tip #1: Digital Application Form
Be specific about the requirements in your job application form and include a brief overview of the role. Use an application form with 'knock-out' questions to identify potential deal-breakers for better screening of candidates during your initial hiring stages. For instance:
Are you interested in full-time employment, part-time, or WFH?
Are you available to work [mention working days and shifts] e.g., Mon-Fri 2 pm-10 pm
What is your notice period?
Docsvault's sophisticated web eForms can replace any paper-based form in HR. You can easily create custom HR electronic forms with various field types like text boxes, drop-down lists, radio buttons, and checklists as well as preformatted fields like address, phone number, signatures, etc. and embed them on your website or simply share the link with candidates to collect and process various information and create dynamic documents. You can map form field values to  document's profile in Docsvault. This will later help you to create custom reports based on the index values e.g. list of candidates who have opted for WFH. This is a faster way to screen out people who are not right for the position based on the information collected.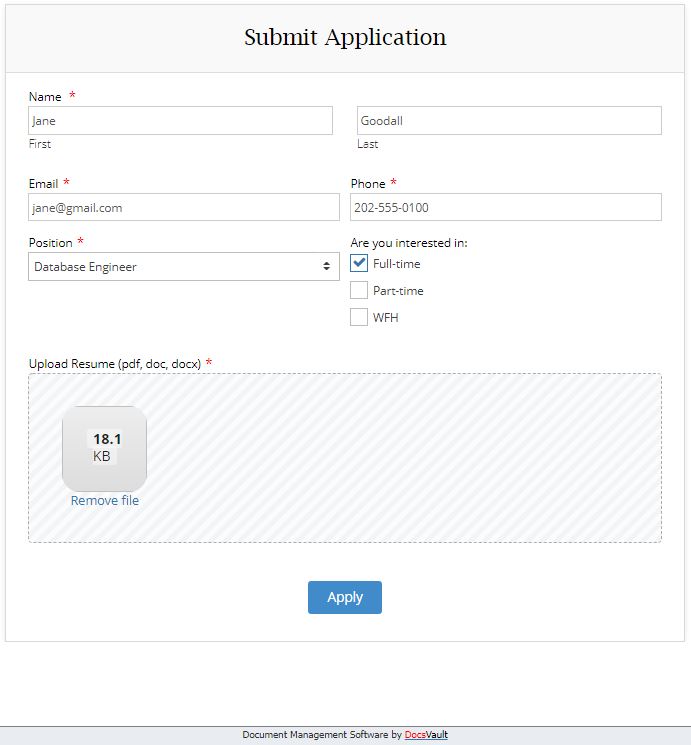 Recruitment Challenge #2: Creating an efficient recruiting process
It is a challenge for the HR Team to keep track of documents when there is an influx of resumes and applications for open positions, especially when each job posting receives an average of 250 resumes. Hiring team needs to collaborate both within the team and with candidates to quickly select the best hires. Additionally, administrative activities consume too much time that can be used for the hiring process and provide a good candidate experience.
Solution #2: Centralize HR Documents
You can improve the productivity and accuracy of HR recruitment processes with centralized file management in the HR document management system. The file tracking system organizes, and securely stores electronic and digitized paper applicant records. All related email messages and attachments can also be captured and centralized. HR personnel can share and access notes and feedback about every candidate.
Tip #2 Centralize Applicant Records
Applicants expect to receive timely updates about their status in the recruiting process. Authorized HR personnel can instantly search and have access to the information they require to respond to candidates' requests and make faster and smarter hiring decisions.
Recruitment Challenge#3: Candidate screening challenges
On the one hand, there is a scarcity of experienced candidates; on the other hand, screening through the voluminous resumes and applications and picking the finest candidates is a significant effort for recruiters. It is critical to reach out to the proper prospects and persuade them to select your organization over the competition.
Solution#3: Optimize Your Recruiting Process
According to the Society of Human Resource Management (SHRM), the average hiring process lasts for 42 days. Other studies report an average of 27 working days. If you fill a position faster than your competitors, it is possible that you will get the top candidates first. Overcome the challenges of manual paper-based recruitment by streamlining the recruitment procedure with digital workflow. Automating the recruitment procedure allows your HR team to take the decision faster and find the right candidates for open positions.
Tip#3: Automate Recruitment Process
Paper-based and manual processes of recurring can be replaced with automated filing and workflow. Documents can be routed for review and approval, eliminating the need to send and track files manually. You can even customize human resource workflow to meet your company's unique needs. For instance, you can have one or two approvals depending on the types of job positions (junior, senior, or developers).
Automated notifications & reminders can be set for prompt action and supervision to HR personnel. Automating the recruiting workflow process removes the need to manually send and track files, enabling HR personnel to spend more time finding the best candidates for open positions.
Speed up the hiring process by creating consistent offer letters with document templates. If you decide not to employ a candidate, make sure to inform them of your decision by using email templates right within the Docsvault, HR document management system.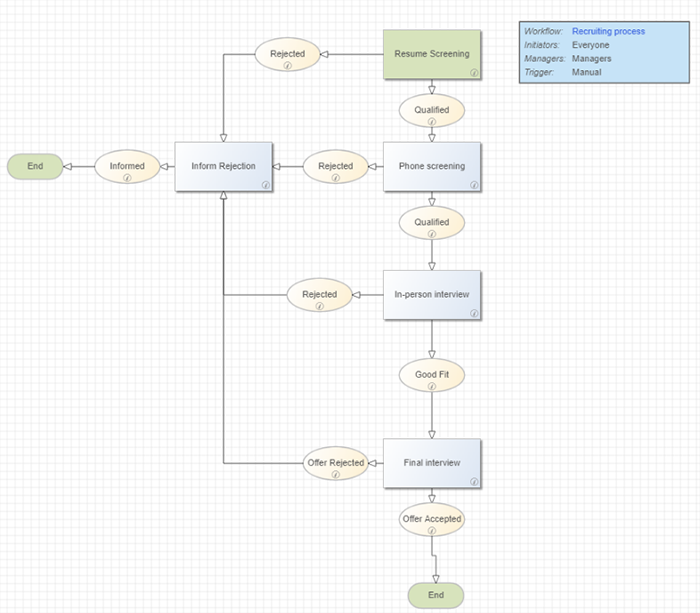 "Over 80% of recruiters believe that automation will boost their productivity." 
Less manual chores that are repetitive with the help of Recruitment Workflow: With recruitment workflow many of the simple but time-consuming tasks performed by recruiters and hiring managers are automated.
Recruitment Challenge#4: Longer time to hire
If you do not hire top talent quickly, your competition will! The longer it takes a candidate to navigate the recruiting process, the less likely they are to get hired. Longer hiring times result in a poor applicant experience, which is bad for the company's brand image in the long term.
Solution #4: Evaluate your recruitment data & metrics
Recruiters have long been aware of the problems associated with traditional hiring methods. Companies can utilize recruitment data and metrics to enhance their hiring process and make better selections. However, gathering, and analyzing data may be time-consuming. Spreadsheets are one approach to keep track of hiring data, but they involve manual labor, are prone to human mistakes, and are inflexible. This makes it difficult to accurately keep track of data and trends. Hiring teams want methods for compiling and organizing data in a streamlined and effective manner.
Tip#4: HR Workflow Reports
A greater way to achieve your goal is to speed up your recruiting process. Docsvault electronic workflows enable HR personnel to complete their task at the right time. Workflow Reports give full insight and traceability into the recruitment process. You can even use the workflow reports to rank recruiters based on factors like time taken to hire the candidates and the difficulty of the roles they filled.
Report generation is critical for a variety of reasons, including security, e-discovery, legal proceedings, information collection, and so on. HR managers and other department leaders must prepare reports on a regular basis to ensure task completion and monitor work activities. This also aids in satisfying a variety of regulatory compliance requirements.
Speed up the hiring process by creating consistent offer letters with document templates. If you decide not to employ a candidate, make sure to inform them of your decision by using email templates right within the Docsvault, HR document management system.
Recruitment Challenge#5: Stay Compliant
Compliance is an important issue at each stage of the hiring process. The recruiting process involves the creation, use, and retention of documents that facilitate hiring and ensure that it is in compliance with employment laws and regulations. Any failure in compliance can result in sanctions or financial losses.
Solution 5# Retaining Hiring Records
A hiring file includes the records and actions taken for the hiring of each position. For instance, job advertisements, resumes, applications, job orders submitted to any agency, interview evaluations, reference checks, results of physical examinations, employment test reports, documentation of tests used in the recruitment process, applicant data for candidates who were not hired, and any other related information. You need to maintain records for candidates that were hired as well as those that were not selected.  See EEOC: Unselected Applicants' Information Must Be Saved, Too
Tip#5: Compliant HR DMS
Docsvault, a human resource document management software can efficiently manage basic HR operations such as employee document management and ensure compliance.
Records retention and scheduling will let HR personnel decide how long they want to retain records once they are scanned and uploaded into the document management solution. HR record managers just need to set retention for a digital file to a date when they want it automatically purged from the system.
Audit trail feature allows logging of every activity happening on a file. This facilitates HR personnel to manage information effectively within the HR document management solution. In case of an external audit, the HR manager can query audit logs using various criteria and will be able to inform auditors exactly what happened within the system.
User/Group Rights: HR managers and administrators can customize access control on documents within the document management system. With the fact that over half of data breaches are internal, role-based user permissions are critical for protecting information from not just external attackers, but also employees within an organization.
Features like audit trail, access control, and version control can even help HR to address concerns regarding GDPR compliance.
Conclusion
Such 2022 recruitment challenges can be overcome by investing in technology such as an Application Tracking System (ATS) or Document Management System (DMS).
According to the Society for Human Resources Managers, many HR managers are dissatisfied with their application tracking systems whereas few people believed they were getting the most out of their systems.
Using Document Management to overcome ATS Issues
Although applicant tracking systems are well-intentioned and a positive step forward for HR onboarding, they do not allow HR managers to touch every aspect of the business process in the same way that human resource document management does.
In fact, the human resource document management solution categorization features alone make them suitable alternatives to applicant tracking systems.
Docsvault provides robust document management software that includes workflow automation tool as a standard feature. It is designed to provide organizations with better business document management and search capabilities.
Docsvault Workflow Management Software facilitates the flow of documents in a digital repository that is accurate and timely eliminating the usual hurdles of a manual circulation of documents. It allows you to customize your workflow processes using a flexible workflow designer. Each person gets timely notifications and information they need to perform their tasks.