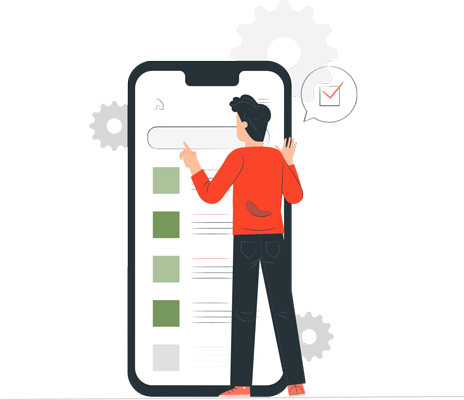 Gone are the days when mobile phones were primarily used for calling and texting. With the latest features, they are no less than supercomputers capable of shouldering an entire enterprise. No wonder, that the most successful businesses today are utilizing smartphones for work, especially for mobile document management.
File management on a smartphone offers unprecedented efficiency and flexibility. So, what's holding you back? Let's discuss what mobile document management means and what features you should look for while purchasing mobile document management software.
What is Mobile Document Management?
Mobile document management refers to a system that allows you to take your entire office into your pocket with optimum storage space and absolute security. Can you imagine how impressive it would be to have your entire client folder on your mobile when you meet them out for lunch? With the Docsvault mobile document management app, you can do just that and more as your customer information would always be just a few clicks away.
A mobile document management app offers the same level of security and responsiveness as a work computer. Employees can flawlessly edit the documents on their devices and sync them with the main system.
We are no longer as chained to our desks as we used to be. To survive the cut-throat competition of today, you need to be in the know while on the go.
What Features Should You Look for in a Mobile Document Management App?
Here is what you should look for in a mobile document management app:
Centralized document management

Remote working is on an unprecedented rise, especially after the pandemic. By opting for file management on mobile document management software, you can skyrocket the job satisfaction levels of your employees by letting them access the corporate data round-the-clock without any remote access software. The travel costs would go down, and employees would have the flexibility to work from an environment of their choice.

Easy data uploading

Your field staff might need to save reports and receipts. Without mobile document management, this becomes a painstaking process. With the Docsvault mobile document management app, your staff would be able to scan and upload documents with their phone's camera. Apart from uploading photos and videos through camera upload, they can also upload files from external folders using the 'Open In' feature. Once these documents are uploaded, the employees can create folders and tag profiles from their devices into Docsvault systems for better file management. Further, the image files can be converted to searchable PDFs and can be OCRed automatically (optical character recognition).

Instant access and collaboration

One of the most significant reasons for opting for a mobile document management app is to retrieve information instantaneously without wasting time. Docsvault's mobile document management app allows your staff to access all the information that they need to serve the customers at their fingertips.

For instance, a sales representative would not need to carry bulky portfolios or stacks of documents while meeting a client. Docsvault offers a powerful search engine to help your team retrieve documents by typing a few keywords. The search engine will analyze all text-based fields in Docsvault, including the content and profile index values of the documents. Finally, to facilitate access to the most frequently used folders, they can be marked as favorites.

Moreover, the workflow tasks can also be accessed on the move. The workflow management capabilities will allow your employees to update workflow tasks in real-time to keep the wheels moving. Their device will be synced with Docsvault on-premise repository, enabling them to receive useful messages and alerts on new tasks and track the document versions through version history. They can also approve or reject tasks and provide feedback or add comments through the mobile document management software. There can be a seamless collaboration by adding or viewing document notes from others too.

Cross-platform compatibility

Your employees should be able to access the mobile document management software no matter the device that they use. Docsvault's mobile document management app is supported by both iOS and Android devices. Employees can open documents in their favorite apps, such as QuickOffice HD, Polaris Office, PDF Viewer, and more.

Robust security

Cybersecurity is one of the main hurdles which obstructs firms from opting for a mobile file management system. Docsvault's mobile document management app offers enterprise-level security. The data is exchanged safely over HTTPS connections, and only the users with web access rights can log in using the app.
These features barely scratch the surface of the massive benefits that mobile document management entails. To realize them for the growth of your enterprise, reach out to Docsvault.