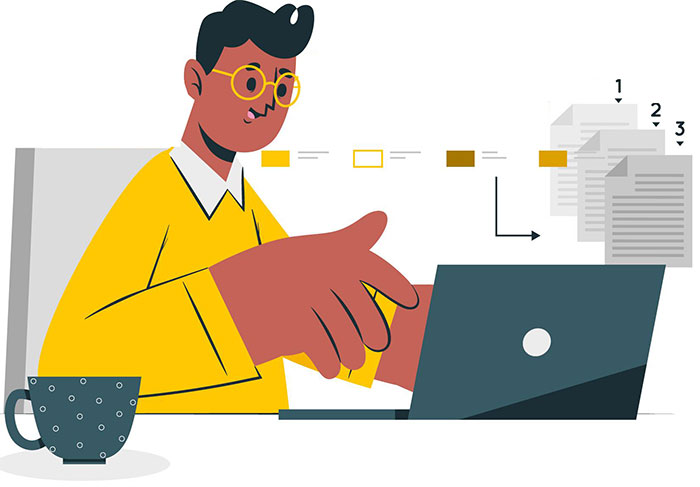 Projects typically result in the creation of several documents. You may have carefully made all the changes to a document and saved them on a shared drive for others to access effortlessly. Yet, there might be suggestions for you to edit it again.
In today's scenario, where teams are collaborating on shared drives increasingly, the improvised naming conventions are being tested to their very limits. It is time to switch to robust document version control software. But, what does that mean, what mistakes are organizations making, and how can document version control software help them? Let's find out.
What is a document version control software?
A document version control software like Docsvault helps you manage different versions of a document or record. It keeps track of a series of draft documents until the final one to avoid confusion and enable an efficient audit trail.
It is a fairly simple definition yet several organizations fall short of ensuring that their document version control is up to the mark.
What are some common document version control mistakes?
If an organization does not have document version control software in place, it can easily fall prey to version confusion once it scales and the number of employees and customers increases. Here are some challenges that necessitate the adoption of document version control software –
Original file not backed up
If you don't have software to retain the original version, or the unaltered version of files, any mistake in a specific version can be compounded in no time, leaving the collaborators utterly confused. It would be impossible to have a single source of truth or work on a fresh document.
Using a shared drive
Using shared storage might seem like an ideal way for teams to work, but it leaves much to be desired in terms of access control. There is no way to check when certain changes were made or who made them, when certain documents were altered or who renamed them. It can even lead to the deletion of crucial documents.
This is just the tip of the iceberg. Let's now discuss what makes document version control an absolute must-have for your organization.
Why do you need document version control software?
Document version control software can lead to marked benefits, including – 
Easier tracking
Every document has a lifecycle with several phases, including collaboration, improvement, review, revision and approval. With document version control software like Docsvault, you can easily keep track of the changes made by individual contributors and make the latest file accessible to your team in real-time. 
Improved collaboration
Instead of waiting for the other employee to make the final changes to the document, your employees can collaborate in real-time through document version control software. Docsvault sends notifications to the file owner and other users whenever changes are made to a document besides the standard check-in and check-out feature to facilitate effortless collaboration. They can also utilize informative and easily searchable version notes.
Facilitates comparison
If you have a ton of changes to make, you might lose track of one or two of them but not with Docsvault. With automated version control, you can easily roll back to an older version and quickly compare to ensure that nothing is stopping you from keeping your best foot forward.
Ensures document safety
With robust document version control software, you don't need to break a sweat over losing your important documents ever again. Besides a centralized repository to safely secure all your documents and automatic backup, Docsvault also offers automatic version control to bring more order to your workplace. 
Saves revenue and reputation
With a rise in the number of your employees and the value of your clientele, your chaotic filing system may also cost you revenue and reputation if –
Key documents are accidentally overwritten
Your workers waste hours of their day hunting for files or reconstructing the lost files
Documents are sent erroneously to clients
Audit trials fail
Documents matter tremendously for a business, necessitating proper control over them.
Easy regulatory compliance
Paper recordkeeping in today's digital world is largely impractical. With Docsvault, you can seamlessly store all of your documents in the central repository and have quick access to all of the versions through the automatic version control feature.
Better storage and management
The more versions stored by an organization, the more effort it requires to manage them, and the more the costs involved. By opting for a document version control software like Docsvault, you can automate version control and ensure that only the relevant versions stay.
Automate and accelerate business processes
The end goal of any process optimization is always to ensure that it becomes less time-consuming for managers and their team members. Through document version control software, your team will be more agile and aligned on documents while it is backed by fail-safe technology against file mishandlin