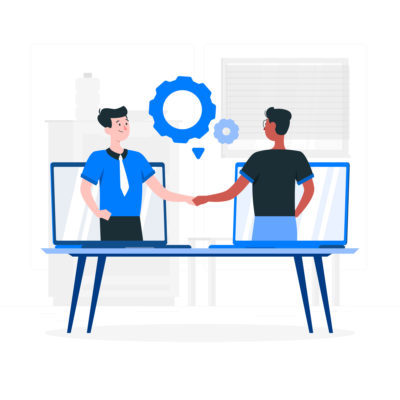 In a digital workplace, collaboration occurs when people work together to achieve a common goal. Teams can collaborate in many ways depending on the project they are working on. Furthermore, many organizations are shifting to a hybrid model of working. However, there are a few challenges that organizations face to blend in-office and remote workers and accomplish their business objectives.
Document collaboration has become increasingly important in today's ever-changing workplace. Docsvault is a document management and collaboration software that offers real-time document collaboration tools for multiple users working on the same document. It eliminates the need for unnecessary paper trials, email chains, and overwriting of the original documentation for maximum efficiency. It also bridges the gap between geographic locations and allows external and internal employees to co-work on projects.
In this article, we will introduce document collaboration and cover a few document collaboration tools available in Docsvault to improve team collaboration.
What is Document Collaboration?
Document or file collaboration refers to tools or systems that help your team work together on an electronic document from anywhere in the world.
Today, the best online document collaboration tools provide a user with a document-centric collaboration experience by allowing them to tag documents and make content-specific comments as well as keep track of version history and all comments and activities related to a document. As a result, an increasing number of businesses are relying less on emails and more on file sharing and document collaboration tools.
Why do you need collaboration in the workplace?
According to Gartner, Inc. Digital Worker Experience Survey, almost 80% of workers are using collaboration tools for work in 2021, up from just over half of workers in 2019. There has been a rise of 44% since the pandemic began.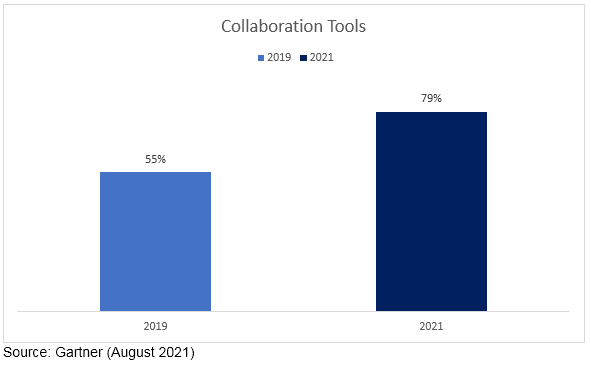 Document management software with collaboration tools enables teams to work together effectively.  Here are four good reasons why you should use document collaboration tools.
Saves Time
Time management is important in business. The more time you save, the less money you waste, and the better it is for your business. Collaboration among employees makes it possible to complete the goals faster than would be possible otherwise. Using collaboration tools saves not just time & money but also resources and efforts.
Improves Organization
The process of keeping documents and tasks in order has always been a challenge for businesses. Because everything is in a mess, it is difficult to keep track of what has been done and what needs to be done with project workflows. Collaborative tools help in maintaining order and managing the stages in workflows through open communication and coordination among concerned participants and teams.
Improves Remote and Co-located Team Collaboration
The document management system provides a central location for all documents, records, and other metadata information. This helps your team members to stay on the same page, no matter when or where they work. They can easily annotate, route, and take decisions based on the same document, reducing errors and streamlining collaboration.
Good Customer Experience
The benefit of collaboration is extended to customers as well. File sharing and collaboration among team members is possible using document management software. Spending less time on finding, uploading, or sharing documents, they can quickly address and follow-up on customer cases and improve experiences for the next customer.
Document Collaboration Tools available in Docsvault for Better Productivity!
There are various document collaboration solutions available in Docsvault for different business functions, such as documentation, file sharing, business process, time management, and more.
Let's look at some of the top workplace collaboration tools that every organization can use to improve team collaboration and increase productivity.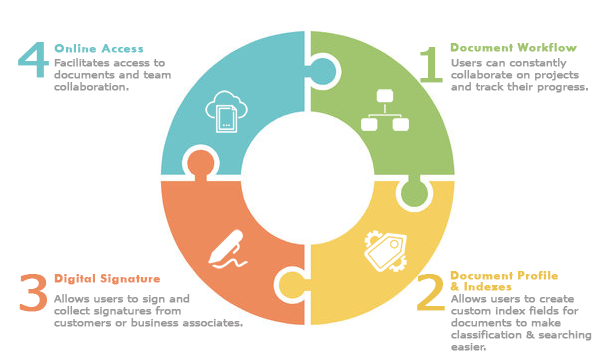 Document Workflow
41% of employees said that they struggled to get a clear picture of the status of organizational tasks. A lack of interdepartmental communication and collaboration in any business can result in errors and reduced productivity. Team collaboration is crucial to operate as a successful team, and it's a lot easier when everyone shares a visually designed workflow interface.
Docsvault includes workflow features that enable team members to keep track of their responsibilities and progress. Document workflows help to streamline business processes when multiple team members are working together to review and approve a document. Users can constantly collaborate on projects and track their progress even when they are on the road, with their laptops, tablets, Android, or iPhone smartphones. They have complete insight into who's working on what thanks to the option to preview documents and comments, eliminating wasted time and increasing workplace efficiency.
Document Profile and indexes (Metadata)
In a document-intensive organization, repetitive tasks that involve searching and sharing documents or information can be performed in a matter of seconds. Implementing a standard format of storing, naming, and profiling documents mean less time taken for searching documents and more time spent on focusing on main tasks. Document Profile and indexes is important tool for document accessibility and collaboration. It lets you create custom index fields for documents to make classification and searching easier. Profiling also adds useful information to any document, allowing for a rapid summary of the document's type and contents. With well-detailed descriptions and appropriate categorical tags and indexes, the documents you need to share with groups or clients make collaboration extremely easier.
Digital Signature
Digital processes have largely replaced paper-based activities in our environment. Furthermore, increased remote working has created collaborative problems, especially with legally binding documents. That is why document collaboration and digital signature make perfect sense between corporate partners, as well as between you and your clients.
Docsvault's Digital signatures are legally binding and allow you to sign any document digitally. They provide compliance with various standards & regulations as they preserve the document's integrity, verify the identity of the signer, and provide for non-repudiation of signatures within and beyond your organization. Docsvault's online Signature Requests is an easy-to-use web-based electronic signature solution for any business that needs to collect signatures from customers or other business associates. It also simplifies the recurring workflow processes and makes online document approval faster ensuring better team collaboration.
Online Access
Online collaboration is rapidly becoming a standard part of today's businesses. It empowers employees to work together on projects from anywhere at any time in the world. Docsvault offers an online document management system that allows you to work from anywhere using any standard web browser while maintaining control over your data. Docsvault Mobile app is a simple and useful application that facilitates working, team collaboration, and mobile document management. It enables you to quickly upload, centrally store and quickly find documents in your repository, ensuring that you never lose essential papers again! With online access, your business can be more flexible than 9-5, and workspaces aren't limited to typical office environments.
Switch to Collaborative Document Management System
Docsvault is a document management system with collaboration features that acts as a centralized hub for task management, file sharing, communication, and more. Documents are stored and organized in a centralized location with automatic version control. You can securely share files with teammates, clients, and vendors. You can even create approval workflows and track user activities with detailed audit trails. All this saves time and effort, and you can promote a more collaborative work environment that stimulates innovation.