While Enterprise Social Software and Document Management Software seem to be world apart, both these software solutions are seen crossing each other's territory lately.
One of the key influencers behind adopting document management software is collaboration as it comes with a suite of collaboration features over and above the standard features like document management, workflow management, records retention, and document security.
The main area for Enterprise Social Software was collaboration but it too is venturing into document management; however, the development is still at an infantile stage. In this post, we will do a step-by-step comparison of both systems based on the parameters that influence the decision to adopt the software.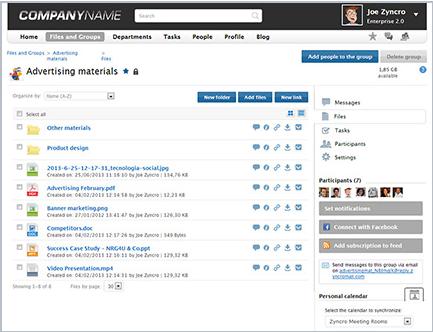 One of the leading ESS, which claims to have document management covered, lacks even basic document management features like Version Control and audit trail!
Enterprise Social Software (ESS)
Document Management Software (DMS)
Size
The most important determinant in adopting software is the size of industry. Many medium and large businesses looking for an easy quick-fix solution for internal communication go for ESS.
Large enterprises looking for an all-encompassing technology that can cover paper, people and productivity and performance often decide for something more sophisticated like DMS.
Industry
Almost all industries as today every organization needs a platform where employees can discuss, share and collaborate on a project.
While almost all large enterprises need document management software, the need for a simple DMS system has been noted in small-scale businesses too.
Solutions  

Business intelligence
Employee motivation
Improved communication
Increased productivity
Mobility
Private social network
Task management

Security and Control
All top-notch ESS comes with standard security protocols
Since DMS has to ensure compliance with the latest regulations, security is one of the strongest points
Advanced tools

Microblogging
File Sharing
Task Management
Synchronization
Knowledge Management
People Directory
Customer and Supplier Extranet
Instant Messaging
Collaborative Work

Capture & Scanning
Quick Search
Electronic Workflow
Version Control
Audit Trail
Records Retention
Personal Workspace
Email Notifications
Document Share Links
Digital Signatures
Auto-emailing
Report Generation
3rd Party Software Integration
External Database Collection

Compliance
"Concerns around data governance and compliance of these quick-moving social collaboration tools are now coming into the spotlight"
No software can guarantee compliance. However certain features like data security, processing, retention, document life cycle are important for complying with most regulations.
This quick comparison of Enterprise Social Software and Document Management Software can help some of your dilemma over which software to opt for. Next up is a comparison on Records Management Software V/s Document Management Software.