Manage your tasks and reminders in a smarter way!
Time is Time: we only have a certain amount of it on our hands, and yet we have an ever-growing number of tasks to complete. It's quite natural for all the employees to be extremely busy with their work. This is why it's important to keep everything organized and get a view of all the tasks, at a glance.
Task Calendar is an effective feature in Docsvault- document management software that helps users track their workflows, assigned tasks & personal reminders in one commonplace, and thus help them to meet all their document management goals. This feature can be easily accessed from both Docsvault Desktop & Web applications.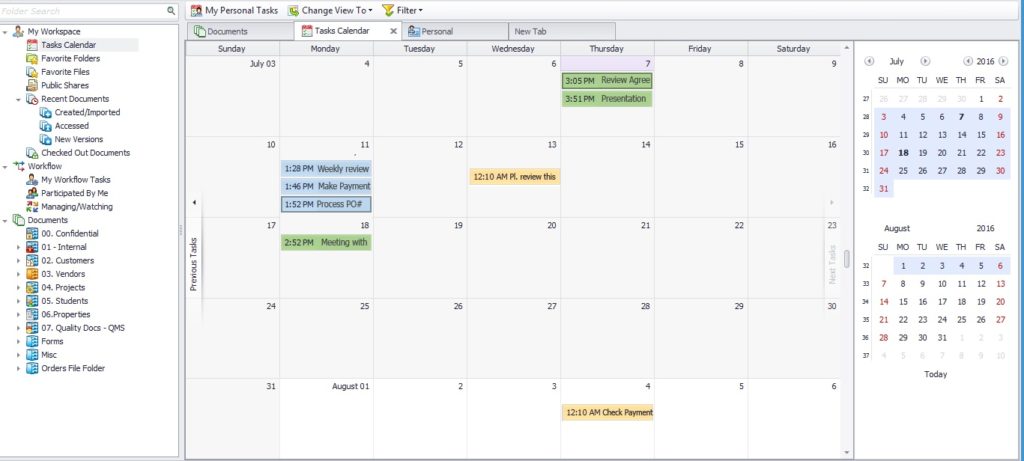 With the Docsvault Calendar, you can perform the following activities:
View the current & future workflow tasks: Task Calendar allows the users to view the details of all the current and future events, whenever needed. One can scroll through months, weeks, days, and years using the scroll bar or use the small calendar in the right corner to see the task for a specific date. All the workflow tasks appear in light blue.
View tasks assigned by others: At a glance, one can view all the document tasks assigned to them by others. The assigned tasks can be viewed from the calendar node from the My Workspace section. The particular due date of a task will be blocked in the calendar in yellow. Users can easily get task information such as task description, who assigned the task, any notes associated with the task and the files routed along with the task if any, by just double-clicking the task.
Set personal reminders: One tends to forget the tasks they have to perform in their busy schedule these days. With the help of Task Calendar, one can view and set reminders for important appointments or tasks related to a document in Docsvualt. Reminders pop up at the specified time to let you know it's time to pay attention to a task. You can either snooze to make it disappear temporarily or mark it as complete. All the personal reminders are displayed in green.
Docsvault's Task Calendar has multiple view options (day, week, month, timeline) that help in summarizing daily tasks & reminders at a glance.