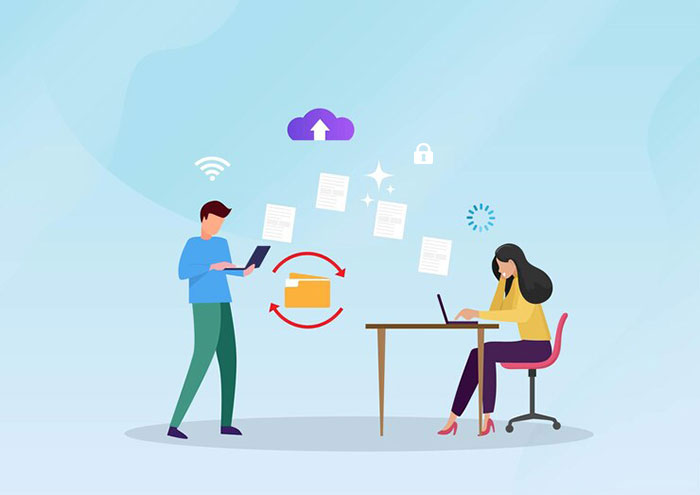 A humongous amount of data is shared worldwide on a daily, hourly and even minutely basis. An average company shares data with over 8 different online domains, including partners and vendors. Yet, organizations struggle to find a tool that can help them share their files securely.
Whether it is your own company's proprietary secrets or your client's financial data, it is pertinent to take stringent steps to safeguard it to save your reputation and that of your clients. While we would be tempted to think that the safest way would be to never let these files see the light of the day, it will not be reasonable to do so.
What do we mean when we refer to secure file sharing? How can you ensure that your confidential data remains safeguarded forever? Read on to find out the right file-sharing solution that is designed specifically for businesses.
What is secure file sharing?
Secure file sharing means sending the data via the digital medium in such a way that any unauthorized access is restricted. It is vital when organizations need to ensure that specific data is only visible to specific individuals or teams which need to work on it. Here are some everyday use cases of secure file sharing –
Financials
Fundraising
Acquisitions and mergers, and more
Often, companies rely on a combination of security protocols to fortify this information. Yet, there are loopholes.
What mistakes do companies make
in ensuring secure file sharing?
Here are some common mistakes that organizations make while transferring files –
Sending them as email attachments
This is the most common method of sending files, and there is no security built into the standard SMTP email protocol. Right from the recipient's address to the content of the email, everything is sent in clear text and can be read with minimum effort.
Lack of control over data
When employees download consumer-grade file-sharing options from the internet and utilize them to send files to external parties, they take the information out of the company's IT department's scope. Often, employees are found guilty of using their personal file-sharing tools on work-issued devices leading to security breaches.
Slack BYOD policies
More and more organizations are asking employees to bring their own devices without enforcing stringent protocol to ensure optimum security. There is enough room for the malefactors to exploit, and if the devices fall into the wrong hands, the outcome can be catastrophic.
Well, there is much more to it. But, what can you do to counter it?
How can you ensure that your files are shared securely?
Finally, you need to ensure that sufficient training has been rendered to the employees on information security. They need to understand the sensitivities of different types of data and the risks associated with mishandling it. If you are investing in a secure file sharing system, ensure that your employees utilize it in the best way.