Choosing the right Document Management Software is key to the success of your paperless business. This page compares two of the leading DMS— Docsvault and eFileCabinet— to help you choose the solution that is right for you.
Ready to see the power of Docsvault DMS? Talk to sales for a demo.
Overview
eFileCabinet has announced the end of life of its on-premise desktop product. If you are an eFileCabinet user who does not want to give up control over spending and data security to the Cloud, you have Docsvault as an alternative replacement for eFileCabinet.
Docsvault and eFileCabinet are leading DMS software. Both software provides robust document management solutions that can scale with growth. However, the differences start to arise when you look at how both solutions are deployed, licensing options, and how that foundation contributes to ease of use and implementation. This page will help you understand the differences between Docsvault and eFileCabinet, so you can choose the right DMS for your growing business.
An Overview of Docsvault
Docsvault is on-premise document management software accessible from multiple devices used to streamline business processes by enabling document access and information control. It is a one-stop-shop document management solution. It allows you to capture, manage, secure, and centralize all documents including emails. It provides tools for intelligent data capture, workflow automation, templates, version control, web forms, getting digital signatures all in one platform. Docsvault makes it easy to securely share documents within an organization and externally as well as setup record retention and be compliant. It provides a single source of truth that empowers your teams to provide a best-in-class experience and improve their relationships with customers. Docsvault's collaboration capabilities allow a smooth exchange of data across different departments of the organization. It is easy to implement, helps you easily align your teams, and makes it easy to adapt to any business challenge.
An Overview of eFileCabinet
eFileCabinet offers a document management software to manage and store documents, content, and records. It brings together automation, workflow, templates, file sharing, and more. eFileCabinet's Rubex is a new cloud solution which means that eFileCabinet may present a steeper learning curve and require budget to get systems working together.
Pricing
Docsvault comes in three editions. Docsvault offers subscription licensing that is billed monthly or annually. It includes all the features you need at its advertised price, and you only pay for required add-ons. Product updates and support are provided through affordable Software Maintenance. You get 30 days fully-featured trial for evaluation.
Starting From:  $125.00 for 5 Users. Initial  Package  including all the basic DMS features.
Capabilities
Docsvault and eFileCabinet comparison across some of the most vital DMS capabilities.
User-Friendly Interface
Docsvault's strength lies in its simplicity. Docsvault brings ease of use and intuitive features to users. The software helps the users to capture data from diverse sources and manage it in a centralized location, facilitating enhanced security purposes. The user interface is familiar as it is similar to Windows Explorer-style interface, making it simple for everyday use. By combining powerful features with an easy user interface, Docsvault is loved by admins and users alike. When paired with Docsvault's powerful reporting and automation features, high-quality data gives admins greater visibility into the overall health of their business data.
eFileCabinet is a leading document management software. Rubex by eFileCabinet is very new; the eFileCabinet website still highlights the older eFileCabinet and SecureDrawer services, which can be confusing. It offers version control, file sharing, document retention and compliance features. The user interface is similar to Microsoft Outlook inbox and can be navigated in much the same way. However, the multiple windows and new options will take new users some time to learn. The lack of training materials on the web is still causing concerns among prospective users, despite the number of useful articles the company provides on its website.
Docsvault and eFileCabinet both offer powerful tools for scaling businesses. But what good is power if the tools are hard to learn, understand, and use? A great DMS should be easy-to-use and adaptable.
Document Scanning & Accessibility
Document Scanning is a key feature of any document management software like Docsvault and eFileCabinet. Docsvault document scanning software is an easy replacement for eFileCabinet. Docsvault document scanning software has one price regardless of scanner speed or volume. It not only provides document scanning but also outclasses it. Docsvault inbuilt document scanning software automatically saves files in the repository, allowing centralized access to all documents. You can control the image quality as well as directly scan and append new pages to the existing scanned files. OCR add-on allows identifying text content in scanned files for search and retrieval using Docsvault's search interface. Rubber band OCR helps you fill values in index fields easily during the manual indexing process. Advanced features like barcode reader, zone OCR, and intelligent data capture instantly identify and capture the most valuable information from paper documents, PDFs, or image files and convert them into highly structured, usable, and searchable data. These captured data can be used for naming, indexing, and filing the documents straight into your document management system. Moreover, Docsvault documents can be obtained using Docsvault Web Interface & Mobile App from anywhere.
Create & Edit Documents
Editing documents and files directly from Rubex by eFileCabinet is not possible. Whereas the main focus of Docsvault has always been seamless integration for users. Docsvault allows users to create and modify PDFs & Microsoft Office compatible Word and Excel documents right within the application. Docsvault also allows creating and editing of documents within its Web application – without having to download them first and then re-upload saving you a lot of time.
PDF Manipulation
PDF is a standard file format for document storage and electronic sharing across multiple platforms and retaining the format. Rubex by eFileCabinet lets users annotate, redact, and e-sign documents while in the program, but actual changes need to be made outside. Unlike eFileCabinet, Docsvault provides built-in PDF viewing and editing capabilities that enable you to edit, view, convert, modify, split, append, highlight, annotate, redact, sign, import, and export optimized PDF documents, taking care of all your PDF manipulation needs without having to export them into an external program.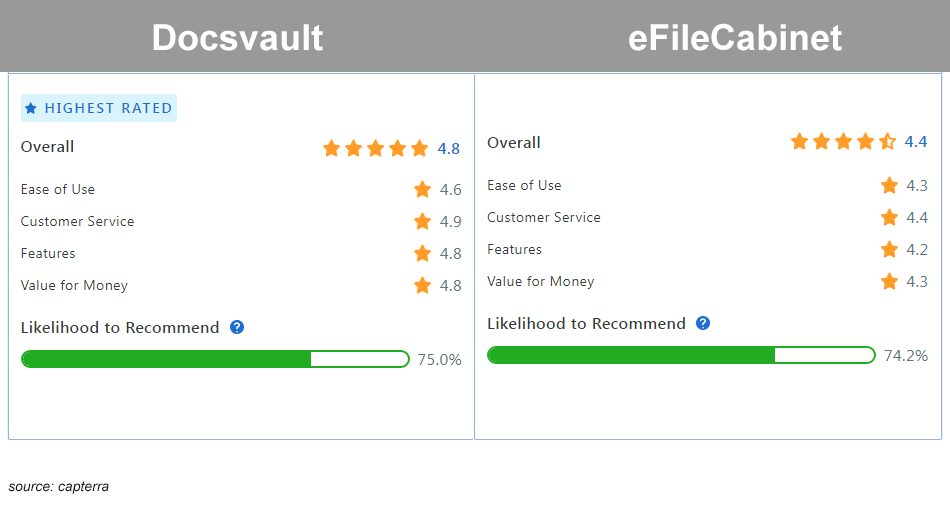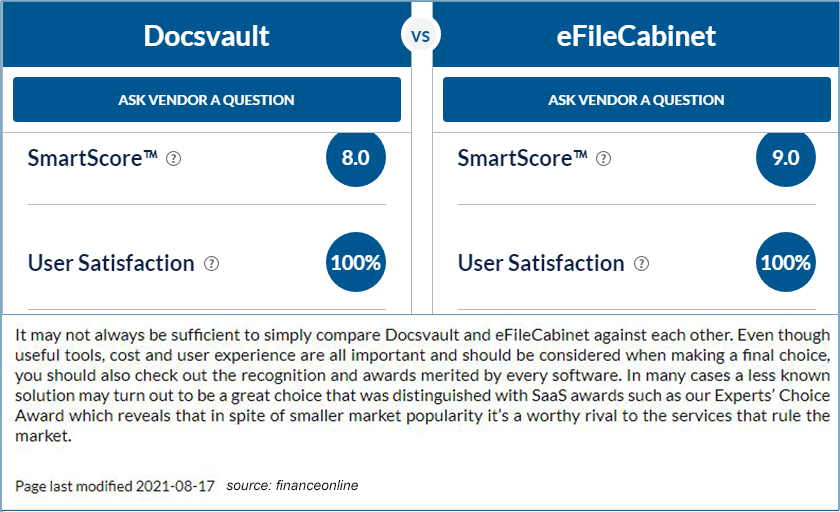 Switching from eFileCabinet to Docsvault
We realize you have many options when it comes to finding alternative replacements for eFileCabinet. Whether you need assistance migrating your data or choosing the best document management software for your organization, our experts can help you move your data into Docsvault, with minimal interruption to your business.