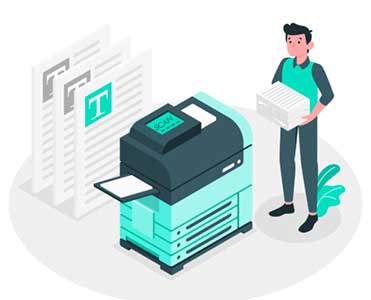 Paper documents have always been a part of a Human Resources Department, but proper management of these files often presents a challenge. Searching for a certain document can entail hours of poring and sifting through each cabinet or drawer. There is also a chance of these paper files being lost due to hazards like fire or gradual deterioration, which is not good news if they hold sensitive or vital information.
According to The Paperless Project (via Medium), "about $120 billion is spent on printed forms and documents by American corporations, the majority of which become obsolete within three months."
Digitizing documents is the ideal solution to this problem. You will want to have a solution that has the expertise, quality assurance, and the right approach for managing documents.
As the leader in document management solutions, Docsvault provides custom-fit document scanning solutions to organizations. In this article, we will explore how Docsvault's document management scanning solution can help HR departments.
Docsvault's Document Scanning Solution Features & Capabilities
Bulk Scanning
Docsvault's Document Scanning solution allows you to scan bulk paper documents and convert them into digital files. Integrated Image correction tools ensures that images look better than the original paper.
Secure Document Storage
Scanned images can be stored in a secure centralized digital repository. You can easily access these digital files from anywhere on any device.
Searchable Documents
Optical Character Recognition (OCR) converts scanned images into text-searchable PDFs that you can integrate into business processes. You can search for documents by any word or block of text in the document. This ensures much easier search and accessibility, further reducing the time and workload of your HR team.
Redaction Solution
Image Correction and Redact tool ensures that confidential information is protected. Incoming documents can be scanned, redacted, and shared. This ensures the confidentiality of sensitive information, and Individuals can feel safe that their personal information is being protected.
Barcode Reader Solution
Docsvault Barcode Reader add-on helps in automatic document separation and indexing based on specific barcode types and values. A valuable solution for high-volume document capture and indexing.
Automatic Extraction of Data using AI
Manually classifying and extracting information from large volumes of documents can be slow and monotonous. Docsvault Advanced Capture Solution paired with embedded AI streamlines business processes by automating document classification, extracting data, and indexing. It captures data and transforms it into actionable insights, allowing the HR team to move faster through their digital workflow processes.
Zone OCR Solution
Manual text extraction is tedious and time-consuming. Zone OCR extracts essential data fields from preset zones in a scanned document and stores the extracted values into highly structured, usable, and searchable data. This information can be automatically used for file naming, indexing, and filing documents within the document management system.
What kind of human resources documents can be scanned?
Our document scanning solution can help HR professionals to convert their paper records into a centralized, controlled HR document management system. The scanning process converts paper records into indexed, text-searchable PDF files that can be accessed from any device anywhere. You can scan HR documents like:
Employment applications and resumes
Employee contracts
Non-disclosure/non-compete forms
Signed confidentiality agreements
Tax documents including W-4s, 1099s, and I-9s
Insurance-related documents
Personnel files

Employee benefits data
Training documents
Performance reviews
Change requests
Administration files
Exit interview documents
Archived employee records still under retention requirements
Here are some of the reasons why human resource departments can benefit from document scanning and digitizing:
Why do you need HR Document Scanning Solutions
Minimized paper storage:
Approximately 90% of information across the world is still stored on paper. Paper documents occupy a lot of space for storage. With document scanning and digitization, your organization can eliminate the need for paper storage and save a significant amount of money.
Improved quality:
If your HR department possesses historical documents,  that they want to preserve for decades to come, digitizing them becomes essential. Paper documents eventually are prone to damage. With scanning and digitizing documents, these feeble documents can be transformed into high-quality digital copies that will last a lifetime.
Access files from any location:
The HR department is able to function with employees working from different locations allowing them to access documents from anywhere. Scanning and centralizing all documents can help authorized employees to view digital files from any device at any time.
Improved Data Security:
An effective system is essential to improve the security of employee data and process HR documentation. With Docsvault's Document Scanning Solution, documents can be scanned and digitized, and securely stored in a centralized repository. You can even assign various access privileges to specific users and track all file activities.
Save Time
HR employees spend a significant amount of time on data entry. Docsvault Advanced Capture solution can automate the process by capturing data from scanned documents transforming them into highly useable and searchable data, allowing the HR team to focus on more important activities and enhance their productivity.
Compliance with industry rules and regulations
Regulatory standards often require organizations to hold sensitive documents for a period of years. Document Scanning allows HR departments to improve their operational capabilities while also having effective and reliable electronic document archives. HR departments can quickly access files, saving valuable time and easing industrial compliance requirements.
In addition to HR services, there are plenty of other departments and organizations that can benefit from document scanning and imaging like:
Accounts Payable Departments
Legal
Insurance
Finance
Government Agencies
Manufacturing Firms
Transportation Services
Request a Demo
Improve Your HR Department Today!
Still wondering about the benefits of HR Scanning Solutions for your business? Contact our experts for a free demo.
Request a Demo