Staying on top of documents, tasks and emails have been a challenge since years. However, now it is time we do not let a ton of documents and emails get the better part of us. We will discuss 5 tips here that will help you manage your documents and document tasks effectively.
1) Zero Tolerance for Undefined Folders
Make sure you have zero tolerance policy for undefined folders and documents. Every newly created file or folder should be well defined.
You can achieve this goal with the Folder Template feature. It allows you to create folder templates which can be used later to create predefined folders with predefined settings for security, document profile and audit trail. Therefore, no matter who is creating the folder, they can create perfectly defined folders as per your company policy.
Start today by pushing Folder Templates to your existing folders to bring your files and folders up to date with your policy.
What are the benefits?
There's less confusion and more clarity about document profiling, security and audit
It ensures all your files and folders are organized in uniform manner
This results in quick retrieval and time savings
2) Don't Let Emails Run Your Life
It is easy to be swamped by emails today with the nature of our work. Collaboration has become more about open communication, accountability, and traceability.
This makes it more important than ever to manage your document related tasks within your document management system and not emails or third-party management software. Docsvault comes with document tasks and reminders that take the clutter and confusion out of task management and allows you to focus on your core business tasks.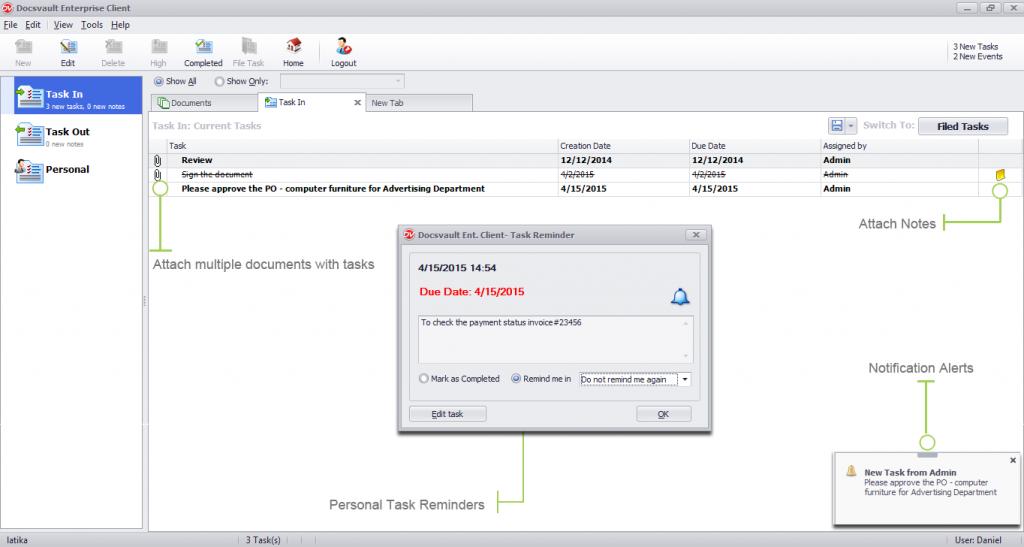 Its neat interface makes it all the more user-friendly and intuitive. Besides, it comes with many other features that ensure tasks are completed on time.
3) Search Smartly, Save Time
Docsvault users have long enjoyed quick retrieval and search feature but in 2016, you can take this farther by using our Smart Search feature in other applications using a simple 'hotkey'.
So let us say, you are using a 3rd party accounting or CRM software and you need to search for a document. Docsvault will instantly search for the specified word in the name, description, version notes, document notes, profile/index, and even in the actual content of every document in Docsvault and display results in no time. This is one tip you must remember to make the most use of your time if you are not already.
4) Create Your Personal Workspace
It is a proven fact that personalized desks, corners and workspace, boost employee productivity. My Docsvault allows you to create your DM Zone, where you can access your recently used, accessed and edited files and folders in an instant. It drastically cuts down the time to access needed files and gives boost to your overall productivity.
5) Try to Finish Mundane Tasks on the Go
A lot of Fortune 500 Company' CEOs swear by mobile technology as it allows them to finish tasks on the go. Download the Docsvault Mobile app now and securely access and search all your documents and tasks. You can even upload documents, add document notes and collaborate over tasks. If you do not have web access rights, get them now and start making use of this powerful feature.