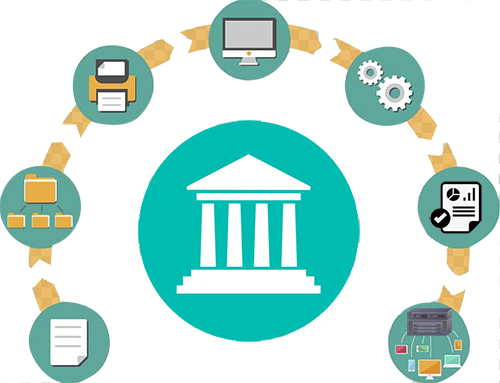 What is Digital Transformation in Government?
Today the government and government agencies at all levels are putting up with digital transformation worldwide.  Delivering government services more efficiently is undoubtedly the prime reason to go digital.
Drivers of Digital Transformation In The Government Sector
Need for faster public services
Today's citizens look forward to public services being as individualized and amenable as the services of the private sector. It requires the government to adopt a 'citizen–first' culture while designing policies.
The ultimate objective is to make public services faster, transparent and effective and improve the public trust in government. Digital transformation is not just about new technologies, but remodeling organizational structure, work process and documentation.
The COVID-19 crisis
The COVID-19 crisis has brought new requirements for digital government services. It has become vital for governments to provide accurate, useful and up-to-date information to people, particularly during times of crisis. However, according to the survey of Gartner Inc., a global research and advisory firm, 80% of government organizations are still at the initial or developing digital maturity stage.  During the COVID-19 crisis, many government organizations started providing information to their public digitally using various applications and on their website.
Loss of time and money due to the slow and manual process
Common manual processes using paper-based systems and handwritten data can cost a fortune. It carries a higher risk of human error, with potentially serious consequences. Mistakes can be costly, both for a government agency's finances and its reputation. There are daily jobs for which hiring the staff increases labor costs. Furthermore, manual workflows are unpredictable and difficult to monitor over time. Manual reporting can be very time-consuming. According to the survey, 60% of workers can save six or more hours a week with workflow automation.
Role of Document Management Software In The Digital Transformation Of Local Government
Enables the citizens and an increasingly mobile workforce document access – from anywhere at any time
Document management software allows users to access their data from anywhere at any time. Citizens, public servants, and suppliers can have remote access to public records and collaborate on projects and initiatives at a lower cost.
Introduces Information-Centric Approach
An "Information-Centric" approach of document management software moves users from manually managing documents to document digitization which can be stored, tagged, shared, secured, and presented in the way that is most useful for the public of that information.
Increases Document Security and Privacy
The data which contains sensitive information regarding the citizens or contracts must be secured and access at various levels should be restricted. Advanced security tool of document management software focuses on keeping documents in the hands of authorized users—and out of the hands of everyone else. Government confidential documents are protected against natural calamities or unfavorable human intervention such as leak of information, mismanagement, etc.
How Docsvault helps Digital Transformation in Government Sector
| Before | After |
| --- | --- |
| Physical files and documents take up a lot of storage space. It costs quite a lot which a small local government office may not be able to afford to rent or purchase storage space onsite or offsite. | "Go Green – Go Paperless" Using Docsvault document scanning and digitization tool, one can store documents electronically saving a lot of storage space. |
| Manual approval processes like paper-based systems and handwritten data are money drain and difficult to monitor over time. | Docsvault's workflow management system helps automate document processes like approvals, reviews, etc. saving time and money in the process. |
| In a manual audit trail, completion events are easy to falsify and might miss information. | Docsvault's audit trail tool logs every action with accurate time and generates complete reports in various formats. |
| Human error is a costly and inevitable aspect of manual tasks due to which chances of falling foul of compliance regulations are substantially increased. | Docsvault's error-free digital environment eliminates human error and helps you meet regulatory compliance. |
Docsvault, A Government Document Management Software
Docsvault, a government document management software provides solutions and expertise for digital transformation to local government. It allows them to securely store every document in a centralized repository on-site and prevent unauthorized access to the documents. Docsvault's intuitive interface and comprehensive search enhance the document accessibility thereby making sifting through them a breeze. Its electronic workflows help automate document processes like approvals, reviews etc. saving time and money in the process.