Welcome to our one-stop resource center for helping you make the most of your Docsvault free trial.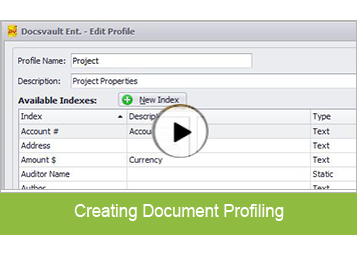 Creating Profiles and Indexes
In this video, you'll learn how to create profiles and indexes in Docsvault. A group of custom index fields makes up a Document Profile. Docsvault ensures that the index values are verified which makes sure of all data entered in index fields being correct. Full export of profile values allow for further data manipulation in other applications.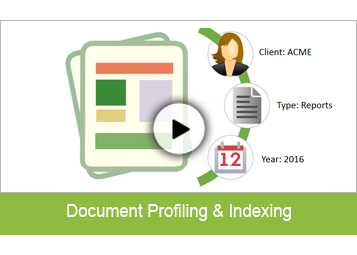 Profiling & Indexing Documents
In this video, you'll learn how you can organize and profile documents in Docsvault. Document profiling helps improve the accessibility of your documents within the Docsvault DMS. Docsvault, apart from the default attributes, allows the user to set custom index fields for documents to facilitate easy categorization and search.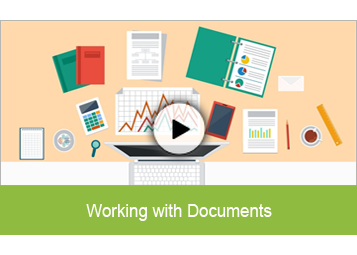 Working with Documents
In this video, we will go over a wide range of features to organize and manage your documents in Docsvault. Some of the features that make your document management easy are, Check-in Check out, Document Status, Email Notifications and Alerts, Admin and user reports, Search and Retrieval and Smart Search.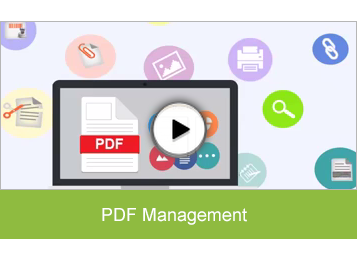 PDF Management
In this video, we will learn how to create, manage and sign PDF documents in the document management system. Docsvault comes with an array of PDF management tools and features that enable you to view the PDF document, edit the document and even perform redaction and correction, all within the Docsvault DMS.
Remote locations and mobile users
This video of the Docsvault Video Tour series shows how you can access your documents in the Docsvault DMS from web browsers and mobile devices.Docsvault Web Access allows users to work from anywhere using any standard web browser without losing your data. Searching for and collaborating on documents can now be done inside the web browser itself.
Docsvault mobile document management app is a client that enables secure access and searchability for all your documents stored on the Docsvault server. Users can now upload documents directly from their mobile device to the central repository. The facility of staying connected even when on the move has become a necessity and Docsvault provides it.