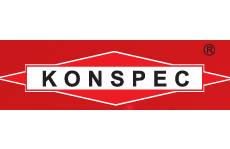 I would strongly recommend Docsvault to anyone who wants to efficiently manage 100s of thousands or even a million office files in a very secure vault. The added benefits of Workflow automation, Auto capture/import of scanned documents, OCR and in-depth file security make Docsvault an ideal solution for small, medium and enterprise level organizations
Konkan Speciality Poly Products Pvt. Ltd. (KONSPEC)
Docsvault helps KONSPEC to centralize their records, secure critical information and improve business processes & collaboration among staff members.
Konkan Speciality Poly Products Pvt. Ltd (KONSPEC) is one of the leading Masterbatch Manufacturer in India with over 200 employees. Their objectives is to make eco-friendly natural fiber reinforced plastic compounds and lower carbon footprint.
Challenges
Difficulty in standardizing files and folders structure in a centralized secured location, inability to audit, securely share and take the backup of their important business documents. 
Solution
Replaced unstructured shared files & folders with a centralized document management system for secured collaboration, audit trail and workflow approvals.
Benefits
The most common problem area in this organization was unstructured methods of sharing and saving information, like shared folders, emails thereby putting collaborative efforts at risk. Time was wasted and files were easily duplicated or lost. This is why, Anand Rao, IT Manager of KONSPEC cited file security, OCR and searchable PDFs, public share links, audit trail, and workflow automation features of Docsvault as their favorite features.
Docsvault OCR (Optical Character Recognition) Add-on automatically reads and identifies text in documents scanned or imported into Docsvault and converts them into searchable PDFs. This feature has helped KONSPEC to instantly retrieve documents within scanned files.
Managing information internally, and approving it, is now much easier for KONSPEC. Workflow approvals and secure file sharing has helped KONSPEC in saving time and eliminating the use of email system for exchanging sensitive data to a larger extent.
Docsvault also offered them a secure and convenient solution to share documents with people outside their organization using Public Share Links.
Administrators or managers could now view the Audit Trail log and identify each step in the process the document goes through.
Docsvault Backup & Restore tools allowed them to preserve important data in case of a disaster making it possible to resume their day-to-day transactions without any hitches.
Docsvault centralized document management system with its flexible functionalities has benefited every departments in KONSPEC with faster decision-making and process automation.
Affordable pricing and customer friendly approach of Docsvault team encouraged them to back Docsvault.
Industry:
Manufacturing & Engineering