Every crisis offers new learning and the Covid-19 situation is no different. The lockdown and social distancing have made remote working the new normal. Microsoft Teams is becoming one of the most used collaboration tools across the globe. But, did you know you can get your Docsvault inside Teams? It's relatively easy and we'll show you how.
Prerequisites:
Access to Docsvault Enterprise or Ultimate edition
Access to Microsoft Teams
How to setup Docsvault within MS Team
Each Channel  in Microsoft Teams can have several  'tabs', for instance, a 'Wiki' tab, a 'Posts' tab,a 'Files' tab and so on. With the plus-icon, you can add new apps to extend the functionality of your Teams channel. Since Docsvault has many web features that are

based on web technology, we can make use of that opportunity to integrate many Docsvault features as a Web-App in Microsoft Teams. These include:
Public Link to share files
Document Request Link to drop documents at predefined location in Docsvault
eForms to collect information and create a document dynamically within Docsvault
Share eForm Reports to analyze data collected on form submissions
In the 'Add a tab'  ( + )  overview, just click on 'Website'.  A new window will pop-up asking for a website name and URL.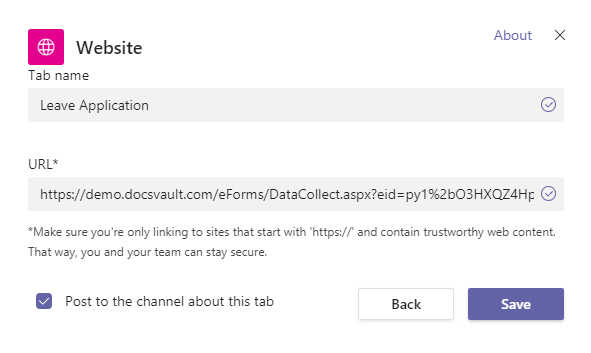 Let's say that you want to add a Leave Application form inside Teams as a Tab or share folder link to collect documents.  Give an appropriate name to a tab and enter the Docsvault URL to be shared.  Finally, we confirm with 'Save' and you'll see that a new tab with the chosen name appears in the tab bar.

When you click on it, the corresponding details will be displayed and you're all set up.  Whoopee!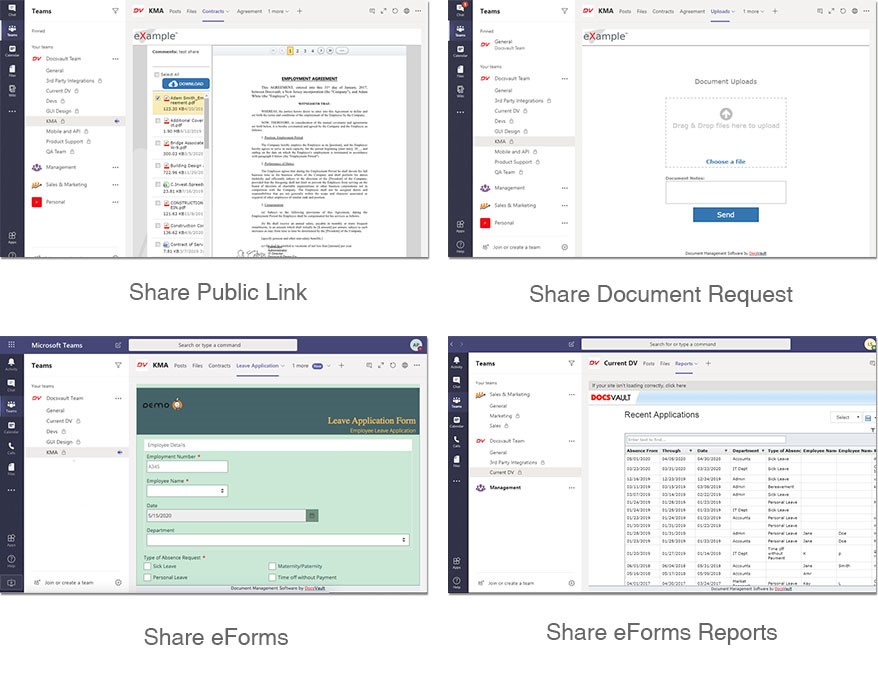 Let us help you get the most from the Docsvault suite of products.  Get in touch with us if you want to know more about our solutions and services.