Make Your Expense Approval Process Smarter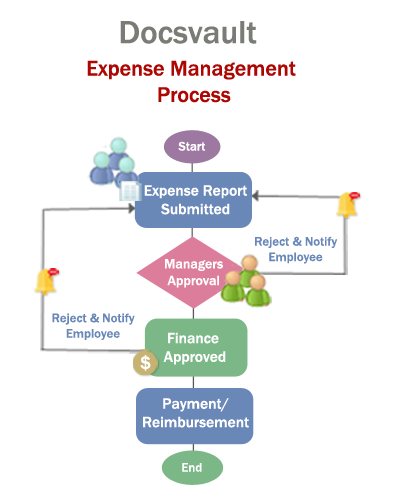 Is your expense approval process causing delays and chaos around your organization? If yes, then it's time to rethink the process and add some automation for submitting and routing expense requests.
Proper tracking of a business expense is essential for an organization's success as it allows them to monitor what they are spending on employee expenses. Additionally, as that business grows, performing the expense claims process manually usually takes numerous employee hours and could still end up inaccurate, out of date, and costly. While automating expense management and approval process with Docsvault document management software is completely error-free and is easy for both the employees as well as the management.
It provides a multi-functional platform that allows users to easily create web-based forms and design electronic workflows to automate the expense management process. Online submission gives employees the flexibility to easily and quickly submit their expenses to their managers while accounting staff can quickly review submissions and move them to the next stage in the process of approval.
Web-based Expense Form:
Docsvault's advanced Web eForms add-on allows you to create web-based forms within your DMS system to collect and process various information and to create dynamic documents. It helps you to customize different types of expense forms electronically with various field types like text boxes, drop-down lists, radio buttons, checklists as well as preformatted fields like address, phone#, signatures, etc. You can handle electronic forms in a secure, effective, and efficient way without having to use the old manual ways of filling out paper forms. Additionally, your expense reports can be calculated in seconds with a formula control table. You can convert your forms to PDF documents on the fly and use captured data to index, name and store the document. 
Expense Approval Automation:
There are many users involved in the expense approval with various roles and responsibilities and with Docsvault's electronic workflow, users can achieve hassle-free and quick approvals for the expenses submitted to speed up the reimbursement process.  Its simple graphical interface along with predefined steps and participants makes your expense approval process faster and streamlined.  You can manually or automatically initiate your task using location or document profile triggers and notify relevant participants as the action progresses. Docsvault's web version allows managers to quickly review and approve expense reports from anywhere without having to be back in the office. Accounting teams can immediately audit, and pay expenses without delays by improving the organization's control overspending. Workflow participants can anytime export their workflow documents and profile metadata automatically to a predefined location during a workflow action.
Improve productivity, compliance and control over business expenses
Together, Docsvault's 'Web eForm' and 'Electronic Workflow' work just like a well-oiled machine that saves your time and money by eliminating tedious paper-based expense approval processes and allow accounting teams to easily review, audit, and pay expenses, thereby improving organization's control over spending and ensuring compliance at the same time.