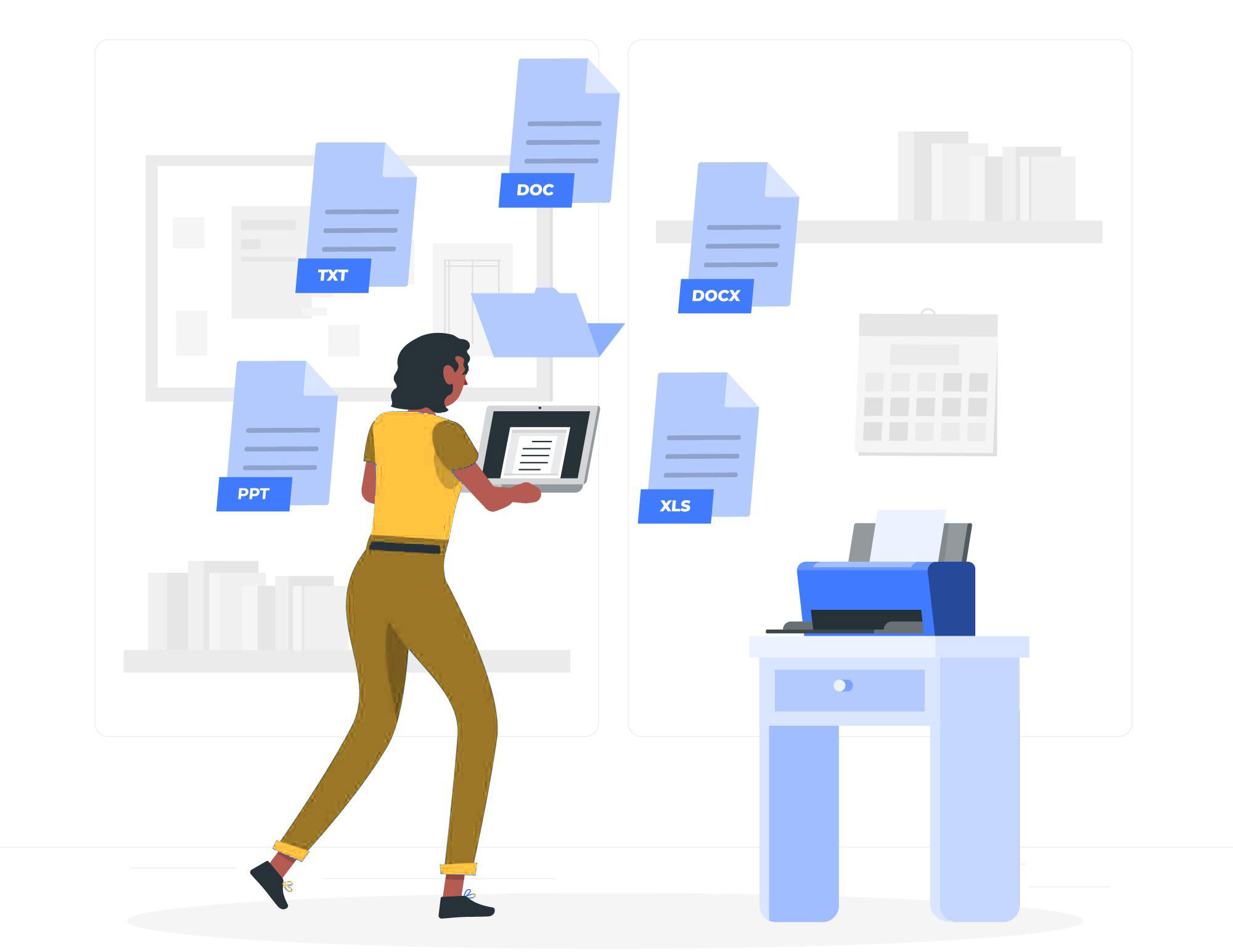 Every business generates thousands of documents a year. Maintaining the security of these documents is crucial for your business. These documents include information on sensitive employee data, legal contracts, correspondence, financial documents, and company initiatives aimed at internal audiences. Business documents that are created over time need to be managed, and it can be challenging to keep track of every critical document. The more documents you have, the more difficult it will be to keep them organized. From this arises the need for an electronic document storage and retrieval system.
What is Document Storage?
The term "document storage" refers to the methods and technology used by your business to store its records, as well as the regulations for document retention and destruction that must be followed to comply with industry standards. A storage facility where all your files and documents are professionally organized and can be accessed within a couple of seconds.
Importance of Document Storage System
For organizations, a document storage system is crucial since it protects your essential documents and helps you save time and money. The process of managing several documents can become highly exhausting and frustrating. You'll frequently find yourself searching through hundreds of files to find a single document. Additionally, improper access to sensitive documents would raise concerns about confidentiality.
All of these issues can be managed with the appropriate electronic document storage system.
What are a few drawbacks of conventional document storage?
One major issue with keeping your files on-site is that they will take up a lot of room in your workplace. Why not use that space in a much better way? If those documents aren't taking up the entire space, you might also choose a smaller office space and save money.
It can also end up costing you more in the long run If you decide to store your file on –site rather than in digital cabinets since you will have to hire someone to manage them.
Your documents are not always secure when left in the workplace. They could easily get mishandled, damaged, or misplaced. This danger is avoided by storage.
Electronic Document Storage – A complete Document Management Software Solution
A great replacement for physical document storage is electronic document storage.
An Electronic Document Storage is a process of storing documents as electronic files. It allows your firm to manage, store, and organize every sort of document it possesses with just one simple centralized document management solution. It streamlines the quick retrieval, management, storage, and usage of your vital papers by centrally storing a sizable volume of electronic documents.
How Can Docsvault help you with Electronic Document Storage?
There are many benefits to choosing Docsvault document management software as a solution for your electronic document storage. Below is a list of the main benefits of opting for this type of document storage:
Ensures much more efficient Electronic documents
Allows capture and search of important documents faster
Helps you Index your electronic files for quick, easy retrieval
Keeps your information protected and private
Reduces the expenses and environmental impact of your printing processes
Establishes efficient and effective document workflows
Wrapping up
A successful firm thrives on efficiency, and document storage and easy retrieval should be at the top of the list for boosting productivity. Docsvault document management software allows you to capture, centralize, manage, and secure all your paper documents, electronic files, and emails. You can access your data outside your office using any Web Browser or go mobile with simple Android and iOS applications.
Stop searching through hundreds of files, and instantly access all the information you require on demand.