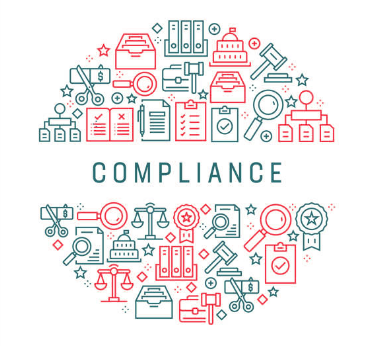 Documents are the heart of any business, so it becomes a top priority of every company to take document security and compliance seriously. In every department, be it accounts, sales, marketing, IT or operations, compliance is critical to every employee. Before your company thinks of establishing company-wide data security and compliance and integrating modern technologies, you need to ensure you have a strong compliance program in place that facilitates the addition of modern technologies, policies, and procedures.
What is Compliance Program?
A compliance program is a set of a company's internal policies and procedures put into place to comply with laws, rules, and industries regulations.  According to IBM, Data breach costs rose from USD 3.86 million to USD 4.24 million, the highest average total cost in the 17-year history of this report.
Implementing Compliance Program
Document Security for business is the way your company handles sensitive data that passes through every day. To keep data and documents secure across departments as per compliance rules and regulations requires a compliance team to examine the rules set by the industries and implement them throughout the company.
Building & Implementing Compliance Program
Every company has different compliance requirements based on their industry and the clients they serve. Before you begin to implement a compliance program within your organization, you need to make sure that the head of each department has a clear understanding of compliance standards and knows what is expected from their department and team.
Information Security
In this digital world, the volume of data that companies create, edit, and store is growing, and require regular documentation to ensure excellent delivery.
Today, there are many privacy and data protection regulations that companies must comply with to ensure regulatory compliance as per their industries standards. Sarbanes Oxley Act (SOX) focuses on proper and secure control of corporate information. HIPAA (Health Insurance Portability and Accountability Act) protects electronic health records, the Gramm-Leach-Bliley Act (GLBA) which focuses on the financial sector, and ISO 27001 which is widely recognized as the international standard for effectively managing information security.
Documentation of Compliance Program
To be compliant, you will have to provide evidence to an auditor that you are following the policies and norms of regulatory compliance. This makes documentation of all your compliance systems necessary. This will also hold your department's heads accountable when it comes to following compliance standards.
Improve Compliance Program
Improving a company's compliance program means reviewing and updating overtime to be adaptable. Functionally, improving your compliance program means repeating the review process, documenting the changes, and ensuring that all departments stay up-to-date with the latest compliance rules and regulations.
Why Do You Need Document Management Software For Compliance?
Documents are essential for regulatory compliance. Implementing document management software allows you to centralize all relevant documentation in one location and automate the tedious procedure of policy documentation. During compliance audits and inspections, you have all your compliance documentation securely stored and easily accessible.
By automating SOPs with workflow and security controls, you ensure that only the right people have access to secure documents.
Reasons Why Companies Use Document Management For Compliance Control
For companies looking to invest in a Document Management Software, Docsvault, a document management software presents an ideal option. Docsvault streamlines document management by combining version control, data security, processing, retention, document life cycle all in one platform. Docsvault is an excellent document management compliance solution that helps organizations minimize risks and ensure regulatory compliance.