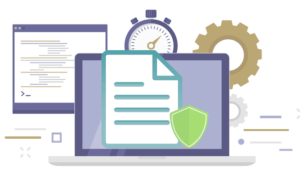 Efficient Records Retention and Disposal Processes
Records retention is a very important part of an organization's records management system that helps you create, classify, and manage ongoing records with a complete retention management workflow. For government entities and many businesses requiring strict compliance, this can mean quite a cumbersome process. In creating the retention schedule, important records are to be classified, retention periods have to be defined and disposition dates be prescribed. When setting records retention schedules, tagging them with the appropriate metadata can help you retrieve this information quickly.
The  'Auto Retention' feature in the Docsvault's 'Records Retention' completely restructures the manual way of records retention schedule. It helps organizations to manage and easily access records over these long periods of time by setting a retention policy based on document metadata.
There are two ways you can automate your retention policy:
Retention policy based on document creation date:
You can set the document retention period in a policy based on the date on which a document was created inside Docsvault.
Retention policy based on Index Field Date:
You can set the start date for a document retention period in a policy based on the date that is determined in the index field at the time of profiling the document.
Records Retention Automation also helps you change record series and corresponding retention date spontaneously when profile and base date index field values are changed.
Implementation of Docsvault's Auto Retention Schedule greatly reduces manual work, improves efficiency, and assists in avoiding legal liability by automating records retention compliance.
To learn more about the Records Management System contact sales@docsvault.com
Read More:
Differences Between Document Management and Records Management
Benefits of Records Management