Whether you want to access your recently used, accessed or checked out documents or organize an event, "My Workspace' tool comes in handy. It allows you to access the documents quickly and eliminates digging to find the folder or file that might be several levels deep within the folder structure. It also allows users to see their personal tasks at a glance and list of public links.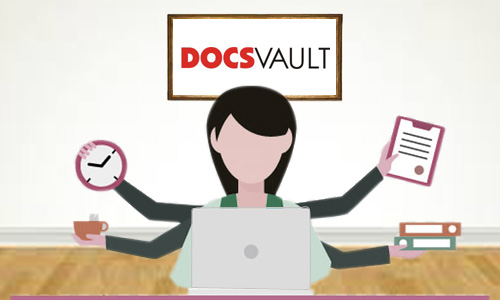 Docsvault 'My Workspace': Saves your time and 'time is money'
A good document management software will save you time and money by eliminating unproductive activities like storing and retrieving documents from folders and cabinets.  'My Workspace' automatically sorts all your recent files and folders. Users can easily access and organize their tasks on files & folders required on regular basis.
Here are the tools in 'My Workspace' to Free up your schedule:
Task Calendar:  Task Calendar is a simple and effective tool to keep you productive and maximize your day efficiency. From scheduling tasks & reminders to tracking workflows in a common place, 'Task Calendar' does more than just remind you what day it is today. This feature can be accessed easily from both Docsvault Desktop & Web applications.
Public Links:
'Public Links' displays document shares and requests.
Public Share Link is a secure and convenient solution to share documents with people outside your organization. Authorized employees can create public URLs of files or folders in your repository and share the URLs with anyone via email, instant message or over the web.
Document Request Link is a productivity tool from Docsvault created to collect documents securely from individuals outside your organization. Secure SSL connections, password protection, and expiry dates ensure that document will be imported securely and within a specified time frame.
Recently Accessed Documents: Imported or updated a document in Docsvault but forgot its location? The recent list is at your rescue. It allows you to get to the most recent documents you accessed, imported and created. You can either jump to the location of the document from here or perform any operation it as you would from normal file lists.
Signature Requests – This tool in 'My Workspace' gives you full control over all your signature requests. Authorized Docsvault users can get signatures for contracts, agreements, or any documents from right within Docsvault – No printing, faxing or mail delivery required. The signature requests nodes is where you can manage all your requests and track their status.
Docsvault's 'My Workspace' helps users in harmonizing all the office activities. They can finish all the tasks on time while effectively planning and managing different projects.  Effective time management skills bring positive impact on your work and life.
Get organized with 'My Workspace'.