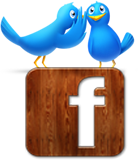 Tweeting What's on Our Mind
After contemplating for what seemed like ages but were just a few months, we are finally on Facebook and while we are at it, we are also going to 'tweet about' on Twitter. Besides our regular news and announcements like feature updates, bug fixes and new versions, we are also going to do something interesting.
For that, you need to check out our daily updates and get daily dose of fun, inspiration and tech updates. This is what we are going to do throughout the week and we bet it will make your day.
Monday Morning Motivation: Kick-start your Monday mornings
Tuesday Tactics: Learn to use Docsvault features better
Wednesday Wins: Get in on exciting offers
Thursday Toons: And you thought geeks are boring
Friday Favs: Technology news updates
We want Docsvault to get a lot of "likes" on Facebook and "followers" on Twitter to know our software is well-liked and appreciated.
Visit our Facebook page.
Check out our tweets.